FORUM8 Co., Ltd. (2-15-1 Konan, Minato-ku, Tokyo. President Yuji Ito. URL: https://www.forum8.co.jp/english/) has become a top partner of Omiya Ardija VENTUS of the WE League, which is Japan's first women's professional soccer league and will open in the fall of 2021.
Japan Women's Empowerment Professional Football League (a.k.a WE League: Women Empowerment League) was established with the philosophy of "contributing to the realization and development of a society where each individual can shine, having diversified dreams and ways of life", and 11 club teams including Omiya Ardija are joining.
The team name of Omiya Ardija VENTUS is derived from the Latin word "VENTUS", meaning "wind". As a new team of the WE League to aim at women's empowerment, it contains the meaning of bringing a new "wind" to the women's soccer world and taking the WE League by "storm". FORUM8, which has acquired the "Grade 2 Eruboshi", has decided to support this team as the top partner.
FORUM8, an engineering software company, has made an environment where a variety of human resources regardless of attributes such as gender and nationality can play an active role from the company's establishment in 1987. In 2017, we have formulated and published "General business owner action plans based on the Act of Promotion of Women's Participation and Advancement in the Workplace" and will continue to work on women's empowerment.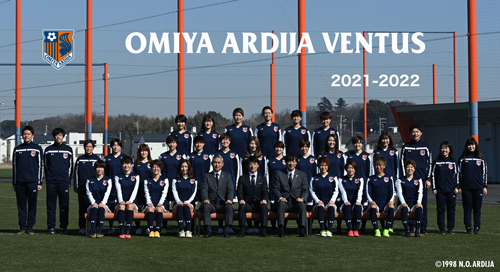 Omiya Ardija VENTUS: https://weleague.jp/clubs/ardija/
In 1998, Omiya Ardija was born out of "Denden Kanto Soccer Club" formed in 1969. Under the philosophy of "contributing to the realization of better community where people can share their dreams and excitement through sports", it is working to contribute to the development of the local community. To become "a club which can contribute to society and community" even more, the team established a new women's football club, "Omiya Ardija VENTUS" in 2021. Inheriting the vision of "toward the future for women's empowerment" set forth by its parent club team, "sFC Jumonji VENTUS", it has started its activities through football in order to realize a society where women can play an active role.
In January 2021, Mr. Norio Sasaki, who is known as the former coach of the Japan women's national football team, took over as general manager.
Mr. Norio Sasaki (General Manager of Omiya Ardija VENTUS):
After graduating from university, Mr. Sasaki played for NTT Kanto and the team fulfilled the promotion to the second division of the Japan Soccer League (currently called as J2). After retiring as a player, he was involved in a number of front-office operations, including serving as the first manager of Omiya Ardija. He became the coach of the Japan women's national football team in 2006 and has accumulated history-making records, including Asia's first World Cup title for both men and women, and a silver medal at the Olympics. He is currently working as a total advisor for Omiya Ardija, and is also involved in human resource development as a vice president at Jumonji University and as a guest professor at Biwako Seikei Sport College. He was devoted to the launch of Japan's first professional women's soccer league, the WE League, as the head of the preparatory office. Besides football, he has also served as a board member of the Association for Resilience Japan before.