CYBERNET SYSTEMS TAIWAN, headquartered in Hsinchu, Taiwan, offering things susch as sales of CAE software for the automotive industry in various countries and engineering services. The office sets up a training room and it has an established reputation for user support too.
Regarding FORUM8 products, for UC-win/Road, we will carry out driving simulator proposals in cooperation with vehicle dynamics software, which the company is handling for the domestic market of Taiwan, such as CarSim/TruckSim and HILS.
In our company, we have hosted a "HILS seminar for automotive industry" on April 23, 2014 in Taiwan, and FORUM8 has announced a lecture entitled the "HILS cooperation application proposal by the UC-win/Road" in the same seminar.
Number of questions were asked, which made us greatly feel the future possibility of the usage of UC-win/Road. Please have great expectations by all means for our future activities as well.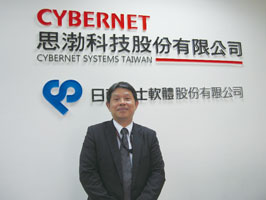 CYBERNET SYSTEMS TAIWAN Co. Ltd.
Arnie Cheng General Manager