Enhanced scenario function
Parallelizing scenarios
A scenario function set information about users' VR environment.
For more complicated interaction, multiple scenarios can be executed at the same time, dividing total flow by purpose.
One scenario can be used as a sub-block of a total scenario, calling or terminating another scenarios from one scenario.
For example, it was too difficult to implement multiple functions such as one scenario such as "driving speed monitoring function", "route guidance function", "traffic accident judging function", but in this upgrade, paralleling execution is available, which call each implemented scenario from a master scenario at the same time.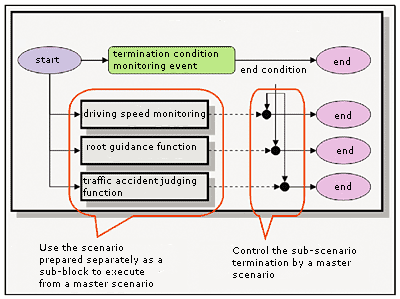 Expanded Event Action
1)Controlling a traffic light
At the specific intersection controlled by traffic lights, instant switching to the selected aspect is available.
and more, intersection and aspect are easy to be selected by filtering or 3D previewing.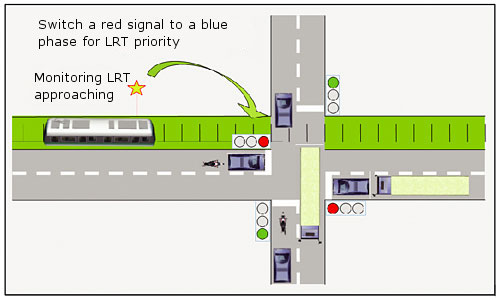 For example, this makes special light controlling available, such as Light Rail Transportation (LRT).

2)Movie file playback, Transparent rate of image display
Scenario setting make it possible to movie file playback and selecting the transparent rate of image display.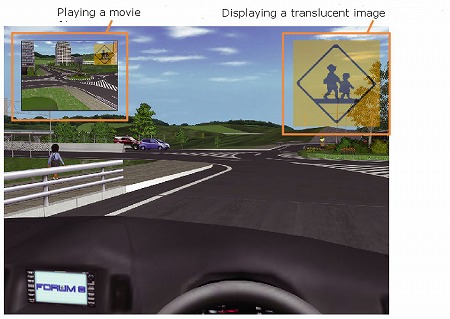 3)Controlling movable models
Scenario setting can execute the commands for movable models

Expanded event termination condition
Before event termination condition was only applied to own car, but this version covers embedded condition for all type of objects controlled by scenarios.
And more, following conditions are available at event termination.

Event termination by driving lane
Event termination by the distance on the driving lane
Event termination by the assumed time to the selected model, so called time to collision

Display of a car wheel rotation and a rudder angle
A car wheel rotation and a rudder angle are supported by designating a front / rear wheels of 3D model parts.
realistic wheel expression is available with "Vehicle editor plug-in".
For its general purpose use, all type of vehicles are supported, such as a two-wheels vehicle, a four-wheels vehicles and a trailer truck without reference to the number of wheel.
When vehicle models are registered as flight models or driving models, the registered models move same as real vehicles.

when no skidding : L = wheelbase
A = front wheel
B = rear wheel
R = the radius of curvature of a steering wheel


Release information
December: support for Korean and Chinese
December: UC-win/Road GIS plug-in
January: Presentation version (scheduled)

UC-win/Road VEr.3.04.02 Release date : January, 2009




UC-win/Road Update Information



UC-win/RoadDB has a database function of 3D models, textures, section data via internet and is available directly from the product. 2,701 3D models, 3,030 textures and 65 sections are registered (as of December 12, 2008).
The latest updating information is...
MD3 characters : labor workers, the aged (men and women with wheel chairs), people riding on bicycles (men and women)
3D models - buildings houses, shops and steel towers : guardian's room
3D models - road facilities : bus stop
3D models - heavy equipments : movable hydraulic breaker
3D models - park facilities : ground
3D models - others : different height of cable pole, bicycle rack, movable gate
Some of models requested from UC-win/Road users are also opened.
Following table shows the downloading list this half a year from 2008.6 to 2008.11. MD3 characters and vehicles in the 3D department are popular, which number has recently increased, as well as trees and road textures in the Texture department. Anyway users seems to be interested in the new registered data.

Now we are creating textures and MD3 models and others:
Parametric textures, which is available on the intersection texture editing tool added in UC-win/Road Ver.3.4
MD3 models of evacuees, which is available on the UC-win/Rod for EXODUS
textures of emergency door and others
3D models of office
MD3 models of people, which is available on UC-win/Road xpswmm plug-in
And 22 countries of the world heritage VR data preparation are also in the works. For example, the Angkor Vat in Cambodian, the Sydney opera house in Australia, the Borobudur temple in Indonesia, and historical place in Gyeongju, Korea have been created sequentially.

Above sample data is scheduled to be available on the upgraded version of UC-win/Road Ver.3.4 We make effort to offer more user-friendly UC-win/Road DB for user to be able to search necessary data smoothly.



1st
2nd
3rd
Characters
Men on bicycles(77)
Characters
Women(68)
Vehicles
luxury sedans (67)
3D department Top ranking Total downloaded number : 10,579
1st
2nd
3rd
Tree
Magnolia quinquepeta(27)
road marking
Stop lines(19)
Intersection
two lane intersection(17)
Textures department Top ranking Total downloaded number : 3,027
1st
2nd
3rd
road (30)
road
pavement with plants
(25)
road
road with guard rails (22)
road
road with pavements
(22)
Section department Top ranking Total downloaded number : 431