One reason behind this release is the research project of one of World 16 members, Assistant Professor Paolo Fiamma, Pisa University in Italy using UC-win/Road. This research was introduced as "The parking in the historical city in Italy" in FORUM8 Design Festival 2010 last year. In the development project of historical area in Pisa, 3D models are created with UC-win/Road and the construction project of underground parking is focused to simulate the people stream and its effect on traffic.

We will hold the World 16 Summer Workshop in July 2011 in Pisa University, where Assistant Professor Paolo Fiamma is currently working.
The VR simulation of UC-win/Road is expected to be expanded in Italy through his research project and the release of UC-win/Road Italian version. We will integrate the pedestrian traffic simulation which has been related with his project to UC-win/Road in the future version.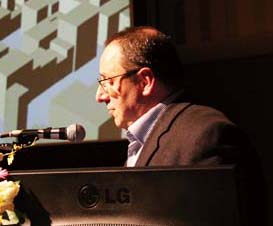 Assistant Professor Paolo Fiamma
(Pisa University, Italy)