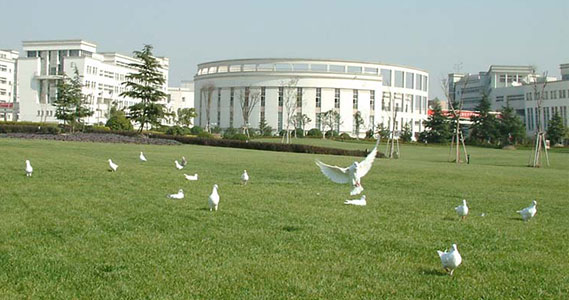 ▲Baoshan Campus of Shanghai University
The Baoshan Campus of Shanghai University is often claimed to be the most beautiful campus in the city. The campus was built around the philosophy and design visions of Wei-chang Qian, who along with Xue-sen Qian, and San-qiang Qian, are known as the founding fathers of the country's modern science research programs. The Institute of Smart City is located in this campus, and, since the introduction of FORUM 8's UC-win/Road in 2012, has been conducting many latest researches over the developments of VR system technologies.
Establishment of 5 Laboratories Dedicated to Smart City Researches and Vigorous Global Exchange Programs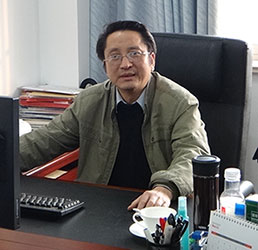 ▲Professor Wang-gen Wan
The institute was established on April 11, 2011, for the sole-purpose of focusing on smart city designs and researches, and virtual reality technologies that can assist in them. Five main labratories currently exist in the institute, each responsible for a different field: Public Platform & Key Support Technologies Research Lab, Urban Life Cycles and Disaster Response Research Lab, Urban Traffic and Mobility Service Research Lab, Urban Sociology Organization and Management Research Lab, and the Urban Public Safety Research Lab.

The current Director of the institute is Professor Wang-gen Wan, with a team that consists of 20 professors and researchers, and around 60 dedicated researchers holding post-doc, PhD, Master, Bachelor degrees.

The institute is active in its globalization efforts and has teamed up with the French Universités de Technologie to inititate the "Sino-French Joint Complexity Laboratory" and perform joint-research programs in numerous fields. It has also teamed up with the University of Technology Sydney to form the "Smart Cities Project", which has opend up many global student exchange opportunities.

Director Wan's received his PhD at the world-renowned Xi'an Jiaotong University. Upon graduation he became a senior researcher at Hong Kong University of Science and Technology, and taught at Hong Kong Polytechnic University, and also currently acts as the Director of Shanghai University International Office. He is currently interested in on VR technologies, bid data, and smart cities researches.
Leveraging UC-win/Road
The Institute of Smart City has long been a forerunner of 3D related researches, such as 3D modeling, point-cloud, 3D model reconstruction, large scale VR city modeling, and apps development. Some of these projects are very large in scale - an example of which would be the overhauling of the "上海市虹橋総合交通枢紐信息基礎設施専業規劃" (lit. Shanghai Hongqiao Integrated Traffic Control Facility and Infrastructure Project), 3D city construction, large-scale crowd simulation, etc. The institute truly strikes a balance between academic research and practicality. Some of these projects involve using UC-win/Road, two of which will be introduced.

One is using UC-win/Road to create VR digital maps. One example project of which is the Baoshan Campus itself, where reseaerchers transformed the 2D maps into 3D space, complete with all buildings, roads, terrains, and all the gardening works. Each building is assigned with positional information to improve navigation, and is an integral part for researches on advanced interactive systems, or to be used for promotion or public relations.
Another project is to use VR to evaluate parking lot design, location, and feasibility. They have created multiple 3D VR data of parking lots to examine each creation's feasibility based on criteria such as geographical landscape and costs. Hopes are high that similar methods may be used for design or construction companies in the future.

Other than the above 2 examples, there are also many other projects involving UC-win/Road. The software has truly become an integral part of the institute's research projects.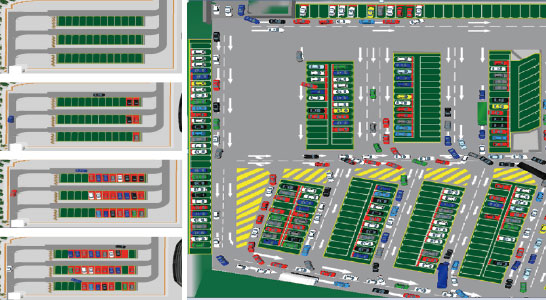 ▲Parking lot navigation system
Attending the Student Cloud Programming World Cup
Students from the Institute of Smart City has been attending all 3 Cloud Programming World Cup since its establishment on 2012. They have won the Grand Prix on 2015. CPWC and VDWC (Virtual Design World Cup) are two international student contests where FORUM 8 serves as the sole sponsor, and has attracted many student entrants across the globe. The Institute of Smart City actively encourages students to attend the two contests to better understand, exchange opinions and experiences of using UC-win/Road, and also to discuss the latest VR technology developments.

CPWC is a competition that involves using both the UC-win/Road and VR-Cloud®'s a3s SDK(software development kit)to develop new feature plugins, software or tools. The latest interation hosted on November 21, 2015 at Shinagawa InterCity Hall in Tokyo had a total of 15 teams, 3 from Japan and 12 from overseas. 7 teams, 1 Japan and 6 overseas, have been nominated. Shanghai Institute of Smart City's team, ROOT, won the Grand Prix with their innovative Traffic Dispatching Verification System.
Grand Prix Winner : ROOT

▲Professor Wan and CPWC Contestants

▲Institute of Smart City,
Shanghai University
The 2015 CPWC Grand Prix winner ROOT team attended the contest under the guidance of professor Wan.

In 2014, the same team members also attended the 2nd CPWC. Although their work was nominated, it unfortunately did not receive an award. This defeat only strengthened the students buring desire for the champion title. The team members banded closer together and strengthened communication through more vigorous discussion and exchange of opinions, while seeking advice from expertly advices to finally attain the perfection they needed to stay above the water higher than anyone else.

They designed an innovative project to assist taxi dispatch system researches that not only applies to China, but also potentially to other countries. This is a simulation platform that allow the testing of taxi dispatches through virtual spaces. All that is required of the user is to enter the simulation parameters and then implement the necessary algorithms to start a simulation. For example, in order to test if an algorithm that can benefit the driver, one would imput the parameters and the algorithm(s) that needs verification into the plugin,. and the results of which are automatically generated, resulting in a smoother and flexible testing system.

Associate Professor Fukuda of Osaka University, Head of CPWC Judge Commitee, has applauded for the team and made the following comment:
"This is an absolutely brilliant project. Positional data is shown in real time to tell the user if he / she should ride the taxi is definitely a fun and useful feature. The coding and overall presentation is also excellent".

The ROOT team, now crownded 2015's champion, has expressed their gratitute towards the opportunity in the following comment:
"We really would like to thank FORUM 8 and the Contest Commitees for offering this great opportunity for us to learn and grow. We are proud with the fact that we are now capable of coding with Delphi and have also gained a deeper understanding of the SDK, and above all, that we were able to push through the competition and able to come this far. Now that our programming knowhow has been expanded, and that we have now know the countless potentials of UC-win/Road, we shall not disappoint those who support us next year as well. Thank you.""
▲Grand Prix of the 2015 CPWC Awarded to the Traffic Dispatching Verification System
A platform for taxi dispatch simulation
Future Outlook
The Institute of Smart Cities has long evolved past using UC-win/Road as a mere VR simulation platform. They now actively explore the various plugins and data conversion tools UC-win/Road offers as a side options, and now actively also perform GIS related researches and researches related to Oculus Rift headsets.
The institute has expressed its future outlook of using UC-win/Road's varied features to further assist in its quest towards finding out the best forumla needed to create smart cities. Further, they will also continue to caltivate and develop students into the next generation talents through participatingn in events such as CPWC, to better prepare the obviously imminent widespread adoption of VR technologies.