---
Establishment of Activities of Tokyo Tech ANNEX, Role of Mr. Mizukoshi
---
In Tokyo Tech, the Office of Research and Innovation is committed to promotion of original basic research as well as creation of the next generation of basic research fields through industry-academia cooperation. With Executive Vice President for Research as its Director, a system is built up in which faculty and staff members, industry-university research collaboration coordinators, and university-research administrator (URA) cooperate with each other. Among them, Mr. Mizukoshi, takes charge of international joint research as a URA and Director of the Industry Liaison Section. He operates the ANNEX projects with the International Section.
"Some universities in Japan have their foreign bases, mainly responsible for public relations for foreign students. The Institute also had foreign bases, though, we have been proceeding to expand a new idea of "ANNEX" for these years."
Tokyo Tech ANNEXes are Tokyo Tech's overseas hubs established by joint cooperation of strategic partners overseas such as universities, research institutions, and industries in the localities. ANNEXes are positioned as its bases for strategic international development contributing to improvement in the Tokyo Tech's international awareness. The following three items are set as main points of activities. 1) ANNEX-E (Education): Recruit or exchange with excellent students, Build alliances with universities and research institutions overseas, 2) ANNEX-I (Information): Disseminate information from and about Tokyo Tech, Conduct public relations, 3) ANNEX-R (Research): Liaise with industry and promote research collaboration. So far, hubs were built up in Bangkok and Aachen respectively. They are preparing for establishing the 3rd ANNEX in the U.S.A. within 2021.
Originally, Tokyo Tech established the first foreign office in National Science and Technology Development Agency, Thailand (NSTDA) in 2002. Since 2007, Tokyo Tech has been operating International Joint Graduate Program called TAIST (Thailand Advanced Institute of Science and Technology)-Tokyo Tech, by cooperating with NSTDA and top universities in Thailand. With such contexts, Tokyo Tech ANNEX Bangkok was established within NSTDA in March, 2018. With this as the basis, activities based on the above-mentioned three points got started then. At the same time, the first "Research Showcase" was held in Thailand in January 2019 to send out information about Tokyo Tech's advanced researches. The 2nd (September 2020) and 3rd (March 2021) ones were held online due to the new coronavirus crisis.
On the other hand, Tokyo Tech and RWTH Aachen University, Germany have been actively engaged in mutual exchanges of researchers and students as well as cosponsored events since they concluded a university-wide cooperation agreement in 2007. Under such relationship, Tokyo Tech ANNEX Aahen was established within RWTH Aachen University as its first European base in March 2019. The two institutions are supposed to hold Joint Workshops with themes that highly attract mutual interest regularly, as well as have joint studies developed from the Workshops. The first Joint Workshop was held in cooperation in May, 2019. Reflecting the coronavirus crisis, the 2nd Joint Workshop has been held online since November 2020 with 6 divided themes in a row.
It is April, 2018 that Mr. Mizukoshi took the present post. Until then, he had accumulated a lot of experiences overseas in the fields of business and academia, for example, as President of Showa Denko Europe GmbH. Leading Tokyo Tech ANNEXes as a URA in charge of overseas, Mr. Mizukoshi took over his predecessor who started up ANNEX Bangkok. For ANNEX Aachen, he has been operating the project from preparation for the starting up together with the members of the international section. Collaborating with partners from each country, he is making efforts to create opportunities for joint studies such as search for themes and secure funds.
---
3D VR Technologies To Be Introduced to Enhance Functions of Annexes
---
Mr. Mizukoshi mentions the aims of planning the new Website of ANNEXes that realizes novel ideas using VR technology to the fullest as below. One of the aims is to let the visitors to the Website to get interested in Tokyo Tech by allowing visitors to feel as if they have actually come to the place using a virtual space, when it is impossible to come and go between each other due to the coronavirus crisis and that it is a question how to fill a gap in activities at the foreign site. The other one is to make it easier for the visitors to have realistic images by supplementing the conventional Website and leaflets in sending out information about the ANNEXes and incorporating the information that Tokyo Tech wants to show into the virtual spaces.
In fact, a certain organization in Thailand held an event using virtual spaces, in which he took part. He found himself getting excited and absorbed, thinking "what kind of room will I enter and what kind of information can get if I click here?" This experience worked as its background.
In last autumn when the actual situations of the coronavirus crisis and its influences were becoming clear gradually, he started examining if they would be able to utilize this kind of tool in maintaining the activities of the Annexes in the future, in consideration of possible continuation of movement restriction for the time being. In November, they invited application for production of "Tokyo Tech ANNEX Webpages with 3D Virtual Spaces", which would contribute to "improvement in awareness in foreign countries" and "Reinforcement and improvement in the information dissemination function to create joint research opportunities". They received applications from several companies. Among them, they chose FORUM8 that possesses software and services on 3D VR, CG and WEB/Cloud and accumulates related technologies.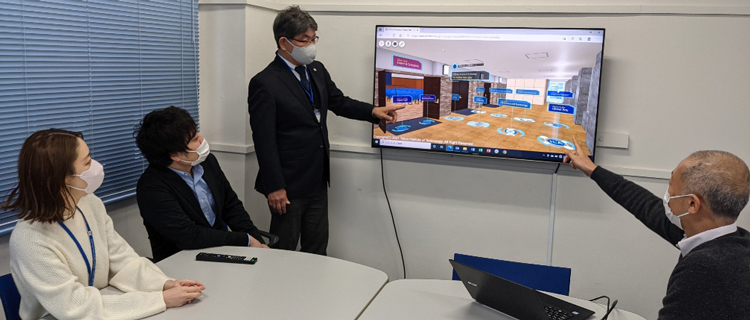 Tokyo Tech ANNEX members operate Tokyo Tech ANNEX Webpages with 3D Virtual Spaces
---
Realizing Creation of Webpages with 3D Virtual Spaces, Its Future Development
---
After they made an agreement in the late December last year, they held meetings with FORUM8 staff in charge about the whole image of "Tokyo Tech ANNEX Webpages with 3D Virtual Spaces" and the requests in detail that Mr. Mizukoshi and others have in mind: for example, approaches from the campus entrance to respective buildings, the number of rooms which are currently necessary for each of 6 schools, configuration of the 3D virtual space including conference rooms and event halls, scenes of movement in and out of buildings, and how to show display which are different from event to event. Full-scale creation work started early in the new year.
The beta version was completed in the middle of February. He said that the whole image was almost the same with what he had in mind. He also evaluated the reproducibility of individual buildings as well as campus environment as "they express the advantages of Tokyo Tech very well, not to mention its atmosphere." At the same time, requests for modification in detail were made, followed by work of completion.
"Tokyo Tech ANNEX Webpages with 3D Virtual Spaces" was substantially introduced for the first time in the 3rd "Tokyo Tech Research Showcase" mentioned above, held on March 8 hosted jointly by Tokyo Tech ANNEX Bangkok and NSTDA. Themes of the Research Showcase is decided every time through discussion among the organizers. This time, it is set as "Agriculture and Livestock Industry" according to the economic strategy that Thailand is presently coping with nationwide.
Regarding the Research Showcase held this time, participants were informed of the URL of its Webpage with 3D virtual space. The participants were allowed to visit a given conference room after strolling inside the school within the virtual campus, open the door, and take part in a Zoom meeting. In another space, a mechanism was added to obtain materials related to the meeting or Tokyo Tech.
Mr. Mizukoshi, Director mentioned an idea of increasing utilization of Webpages with 3D Virtual Spaces in other events to be held in the future such as Research Showcases and Joint Workshops. He also hopes that this can be an effective tool to make the atmosphere understood also in some other events such as the one to inform overseas students about learning in Tokyo Tech.
The main building of the Ookayama Campus appears in the Welcome Screen
of "Tokyo Tech ANNEX Webpages with 3D Virtual Spaces"
Proceeding from the lobby to the
laboratory to experience the contents
On March 8, 2021, the 3rd "Tokyo Tech Research Showcase" was held by joint organizers of Tokyo Tech ANNEX Bangkok
and NSTDA, where participants were allowed to enter the room to participate events and campus guidance through
"Tokyo Tech ANNEX Webpages with 3D Virtual Spaces" created with F8VPS.