"In a word, it is to keep safety of the ocean, sky, and land by lights."

Founded in response to the request for provision of domestic lighthouse equipment, Nippon Koki Kogyo Co., Ltd. has been expanding its fields from aids to navigation to aerodrome beacons and to road-sign-related business. Widening its target areas step by step in this way over its history of nearly 100 years, Mr. Yutaka Taniuchi, President of the Company describes the role of the Company, which has been contributing to security of infrastructure while obtaining customer satisfaction by providing equipment. It is a simulator that the Company expects to be a new axis of expansion, which allows the clients who order installation of lighting equipment to bodily feel how the light is seen, for example, from a ship approaching to the harbor in advance with high reality by utilizing virtual reality (VR) technology.

Our user to introduce in this issue is a manufacturer specializing in special lighting, Nippon Koki Kogyo Co., Ltd. We focus on "Technical Sales Department" in charge of proposals and sales of various lighting equipment such as aids to navigation and aerodrome beacons for government or private sectors.

They were searching for marketing tools to show their customers how a harbor would change depending on what kind of lighting instruments to set up and where to place them, or whether or not the light would be easy to see and so on, when they took part in "ITS World Congress Detroit 2014" (September 2014, USA) as a company as part of treating road sign supplies. There they saw simulation based on "UC-win/Road", 3D real time VR of FORUM8, and came up with an idea of applying it to a simulator for light. Since then, through joint development with us FORUM8 towards realizing it, the first version of the system has been constructed.
▲From left: Mr. Hiroyuki Nakajima, Deputy Manager of Technical Sales Dept.;
Mr. Takashi Tanishiki, Director of Technical Sales Dept.; and Mr. Yutaka Taniuchi, President
Pioneer at LED Lighthouse, the Company Supporting Both Aids to Navigation and Aerodrome Beacons
Japan had been depending on foreign products for lighthouse equipment since Meiji era. Domestic manufacturing of lighthouse equipment was strongly demanded due to difficulties of importing glass lenses because of the influence of the First World War (1914-1918) and so on. Then in 1919, Nippon Koki Kogyo Co., Ltd. was founded under the assistance of the former Aids to Navigation Management Office of Ministry of Communications and Transportation (currently Maritime Traffic Dept. of Japan Coast Guard).
The Company started with manufacture of aids to navigation such as light sources of lighthouses as its major service. The original gas lighting equipment was gradually developed into electric bulb types, semiconductor control systems, and LED systems. In particular, they paid attention to the future potential of LED, which was not widely disseminated at that time. In 1988, they put the LED lighthouse to practical use to replace the incandescent lightbulb system that was then the main stream. The first unit was established at the Kobe Harbor. In addition, reflecting their activities with emphasis on technological development towards energy saving, high brightness, and multiple functions, their product areas range widely from coast beacons such as large-scale lighthouses to beacons of ports and harbors such as light buoys and leading lights and guiding signs, and obstruction beacons such as sea berth lights and simplified beacons.
On the other hand, the Company started to manufacture aerodrome beacons at a full scale when the nighttime air route between Tokyo and Fukuoka was established in 1933, for which aeronautical ground lights were built at many places across the nation along the air route. In 1958, the Company delivered an obstruction light system for Tokyo Tower. Since then, it has covered areas of aerodrome lights such as approach lights and taxiway lights, obstruction lights to indicate the presence of buildings that may obstruct flight of airplanes, heliport lights, and control systems.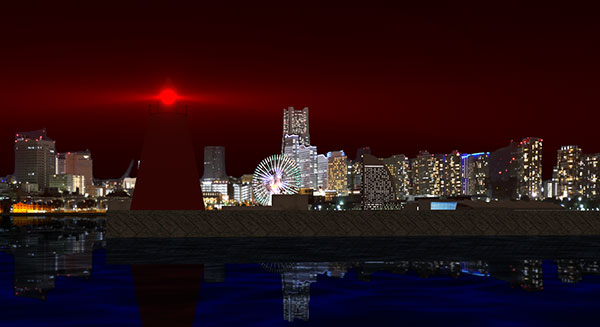 ▲Simulation of Port of Yokohama using Aids to Navigation Simulator with UC-win/Road
: checking whether beacons can be confirmed from a ship when there are lights in the town.
The company is the only one company that deals with both aids to navigation and aerodrome beacons on its own. Taking advantage of this, it has a business record of delivering medium intensity white obstacle lights and beacon lights for floating offshore wind turbine, which attracts attention in recent years.

In 2010, in addition, it bought out Wave+X Incorporated (headquarters in Itabashi Ward, Tokyo) that provides solutions for expressways including road signs, microwave absorbers, and tall gate facilities. The current organization has been prepared to contribute to safety of infrastructure including oceans and sky as before and land, which was added this time, centering on lights.

The Company currently has its headquarters in Kanazawa ward, Yokohama city with about 50 staff members in 3 departments of Technical Sales, Technology Development, and Production Management. Among them, Technical Sales Dept. with 16 employees is divided into a group for government-related matters and a group for the private sector including local public bodies. The products they propose include aids to navigation and aerodrome beacons managed and operated respectively by government agencies such as Japan Coast Guard and Civil Aviation Bureau of Ministry of Land, Infrastructure, Transport and Tourism (MLIT), and aids to navigation and obstruction lights for local public bodies and different private companies such as the energy industry, the construction industry, expressway companies and so on.

"What our Company aims at is to find out the next light source to LED, and how to procure it at low cost". Mr. Taniuchi, President also stated that it is important to research and develop things that are easy to see and durable, which can gain customer satisfaction. The key to it is for Technical Sales Dept. to grasp the customer needs properly, and realize them by cooperating with design and manufacture sides.
▲Purposes of developing Aids to Navigation Simulator presented at the World Congress
From Focus on UC-win/Road to Development of "Aids to Navigation Simulator"
"When we were troubled by having no marketing tools (to use when presenting aids to navigation to customers), we saw road-related simulation, which made us come up with an idea that we could use it for creating a light-related simulator."

Originally lights are open to the climate and the sense of sight, which has been considered difficult to explain. An approach that has been taken is to bring a product prototype and say "you can see (a light) x km off", or "it looks glowing like this". Therefore, it was self-evident that there was a limit to some explanations such as how it looks like from a place apart, how it looks like when it's raining, or what the difference in its appearance between when dark at night and when the moon is shining is. In such a case, a method to make up for this was required, as Mr. Takashi Tanishiki, Director of Technical Sales Dept. looks back.

In September 2014, when the former President took part in "ITS World Congress Detroit 2014" with related staff of Wave+X Incorporated, a subsidiary company that deals with road signs etc. for expressways, they experienced UC-win/Road for the first time at the exhibition booth of FORUM8. They found out that one of its functions allowed simulation of headlights of vehicles and delineators on roads in a VR (virtual reality) space. At the beginning they intuitively knew its availability as a tool for explanation by capturing the road sign data of the Company. After a while, they came up with an idea that it could also be applied to aids to navigation. As the cost was also reasonable for this, it was decided to adopt UC-win/Road, as he says.

Later, they focused on simulation of aids to navigation that could be used for publicizing their products for contractors or construction consultants dealing with offshore engineering and construction of port facilities. Through repeated meetings with FORUM8 staff members, they have been aiming to develop a "aids to navigation simulator" to be used universally by capturing light distribution (expanse of light from the source of light) data of the Company's light equipment product, though there are still some elements that are not settled clearly such as conditions.
▲Aids to Navigation and aerodrome beacons of the Company
according to various usages
▲Demonstration of the "Aids to Navigation Simulator" using PC
Immediate Target of "Aids to Navigation Simulator" and Present Situation
At the first meeting with FORUM8 in autumn in 2014, the Company minutely checked various VR examples created using UC-win/Road. In particular, while focusing on optical representation as a manufacturer specializing in lighthouses, they realized that traditionally light distribution of headlights of vehicles travelling while lighting the road and so on were based on data in a rough form to some extent.

On the other hand, as long as aids to navigation simulation is performed, it is important to properly represent different light devices (lights), or specified characteristics of lights such as fixed lights, blinking lights, and rotating lights, and difference in visual performance depending on them, according to the actual situations. Thus, a concept was drawn to aim at developing a unique simulator by incorporating the Company's know-how accumulated through nearly 100 years in addition to operation that adopts technical formulae, according to Mr. Hiroyuki Nakajima, Deputy Manager of Technical Sales Dept., who is in charge of proposing various light source facilities for the private sector.

Through such approaches, "Aids to Navigation Simulator" has been building up a mechanism of parameter input of elements that have influences on visual performance of lights. For example, inputting the product data of the Company allows the user to represent the brightness or how to glow of the light equipment in concern. It is also possible to simulate varying visual performance of lights due to changes in blinking patterns, the number of rotations, or arrangement.

What Mr. Nakajima mentions as a significant outcome in particular is representation of light beams that appear when the light of an irradiation lamp that illuminates sunken rocks strongly reflects on the dust in the air. Since conventional VR was not able to represent them very well, this breakthrough was positioned as a great point with the simulator of this time. Working patiently with the FORUM8 staff, they represented how light beams looked different while changing the looking angle, height of the view point, and the view point distance with mouse operation. While evaluating the function that they have been realizing with hard work, he thinks it has reached a certain end though saying "we haven't reached the point we finally aims at yet" for the degree of completion as a simulator.
Possibilities of Utilization, Future Challenges and Direction of Expansion
The International Association of Marine Aids to Navigation and Lighthouse Authorities (IALA, headquarters in Paris), which aims at information exchange, standardization, and technological improvement on aids to navigation, holds a general assembly every 4 years. Discussion is held on the direction of various activities for the subsequent period of 4 years. As aids to navigation simulator was picked up as one of the themes to be dealt with in the previous general assembly, several participants proposed simulators of different approaches in the working group of IALA held in November, 2015.Numerical simulation for improving visual attraction (degree of attracting eyes) by e.g. changing lighting patterns and so on were introduced.

Mr. Nakajima made a presentation of the "Aids to navigation Simulator" developed jointly with FORUM8 at 2 workshops for engineers and port managers. He opened to public simulation that showed how to arrange beacons to make visual performance better, or how to change the existing beacons to make flow of ships smoother with VR. This drew attention on its usages such as an educational tool for executive trainees of maritime safety agencies of developing countries.

On the other hand, they have a trial plan to match the information of VTS (Vessel Traffic Service) for controlling vessel navigation and the radar for monitoring vessels with the "Aids to Navigation Simulator", which allows the invisible things to be visualized using VR in such a case that it is difficult to see a lighthouse due to fog during operation of a ship. In addition, he listed up some challenges to solve as follows: how to set parameters such as permeability of atmosphere to realistically represent the influence of fog or rain on eyesight, how to represent the changes of waves that reflect diverse environments including terrains and their influences on visibility of light, and whether it is possible to evaluate the changes of lights properly on a general display of a personal computer (PC) in contrast to the current VR representation that tends to depend on the performance of the display device. It is planned to elaborate it on these points while operating it in consideration of specific needs.

Mr. Nakajima mentioned the significance of evolution from a mere idea of utilization as a marketing tool only within their Company at the beginning, becoming larger and larger through collaboration with FORUM8 to development of the "Aids to Navigation Simulator" available for external people concerned.

At the same time, Mr. Tanishiki paid attention to the difference in the effects between the optical simulator of the conventional type to which an approach of indicating brightness with a line was mainly applied and the "Aids to Navigation Simulator". He explains that use of VR should significantly boost the possibilities of expression that allows recognition of brightness visually.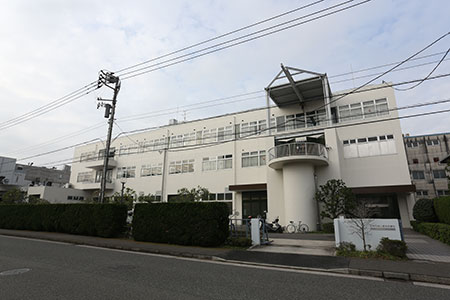 ▲Building of Nippon Koki Kogyo Co., Ltd.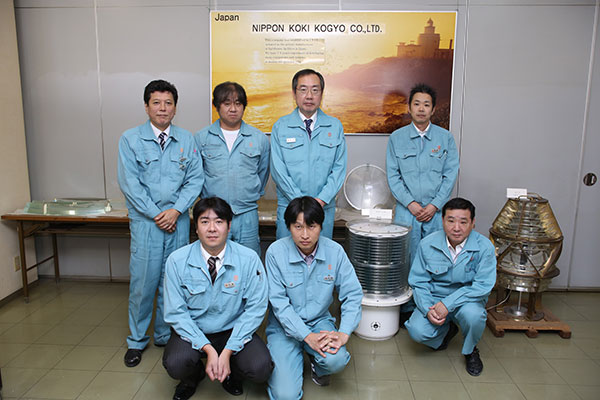 ▲Staff members of Technical Sales Dept., Nippon Koki Kogyo Co., Ltd. surrounding Mr. Taniuchi, President