It takes about 15 minutes by the Meitetsu train from Nagoya Station to the nearest Iwakura Station, and 5 minutes by taxi from Iwakura Station to Iwakura Hospital. In its vast site around which rice and vegetable fields remain, outpatient rehabilitation and dialysis centers are juxtaposed, placing the ward for long-term care, the rehabilitation ward for recovery phase, and the general ward for acute phase.

The southern main gate of the Hospital is formed in a bright and open atmosphere, reflecting its stance to put emphasis on the natural healing power. The lobby space is impressive with thoughtful devising to make the feeling of patients coming and leaving positive, including the reception desk suggestive of the front desk of a hotel.

The west side of the lobby is an entrance of a rehabilitation center. A large number of beds for treatment are arranged spaciously within the vast floor of the center. Diverse kinds of equipment including "Simulator for Evaluating Driver's Judgment and Reaction" and a bathing simulator are accommodated functionally.




---

 Aiming at Changing Awareness about Rehabilitation

---

"It is our main mission to help patients ranging from those in the acute phase to convalescent and maintenance phases to return to the society as much as possible (through rehabilitation-medical care we provide)."

With the medical insurance system changing its form, while university hospitals and community hospitals etc. play a role of saving lives of patients of acute disease or those severely ill (as hospitals for the acute stage), for example, rehabilitation in the convalescent phase is positioned to aim at achievement of returning home or to society after recovering from the acute phase. Among these, it is the rehabilitation section that Mr. Kataoka leads in Iwakura Hospital that takes responsibility for the latter as the main axis, according to him.

Exercising control all of rehabilitation-related sections in Tiousha, he is making efforts to deal with the problems in the concerned area and educate therapists. In specific, he not only treats his patients as a physical therapist but also educates and trains young staff and others working in the Rehabilitation Center about approaches to therapy, how to plan directions for each patient, and how to explain them.

However, speaking of rehabilitation, general people tend to imagine that the patients are trying hard while enduring their pains. This is because they are influenced by TV dramas they watch, with special staging to make it more dramatic. Originally, a patient should only lie down on a bed for treatment, and therapists like a physical therapist and an occupational therapist should do their best to improve the patient's motor function using their techniques that the therapists have improved by themselves.

He also mentions examples of some hospital for the convalescent phase that catch attention in that patients try very hard for the therapeutic exercise in the convalescent phase, sometimes moving their joints and muscles every day without rest. Regarding this, he says that it is the physically unimpaired person having standby capacity to spare who is allowed to try hard though it is more or less too severe. According to him, patients in the convalescent phase with scarce standby capacity may weaken due to muscle fatigue and so on. "Taking much amount of medicine doesn't mean the patient gets better. On the contrary, he or she may get worse from its side effects. It is similar to this. What's more, just practicing walking is not what a patient should do in the hospital."

He talks about his view that it is an important role assigned to him to correct the awareness of patients and general public that are often mistaken by keeping practicing and sending messages about the concept of the original state of rehabilitation.

Website of Iwakura Hospital, Tiousha Medical Corporation
Bathing simulator for checking if the motor function
of the trunk or legs of a patient has improved and
he or she can take a bath at home alone
A wide opening that allows viewing the outdoor
rehabilitation area and far-off scenery
Beds for therapy are spaciously arranged in
the vast floor
---
Higher-order Brain Dysfunction and Its Influence on Driving
---
"Regarding driving skill, when there is paralysis in the body function, it is almost possible to imagine whether or not the patient can drive a car somehow by checking his or her bodily condition." However, "there is no (clear) standard even in the Japan Safe Driving Center (JSDC) for (re-issuance of) the driver's license (for the patient who has left hospital after receiving therapy for the convalescent phase)."
In other words, traditionally such a patient was judged all right to drive a car by checking only the functions of limbs, and re-issuance of the driver's license was applied. Any matter after this was left to the patient's self-responsibility, according to Mr. Kataoka.
The problem here involves cases with a higher-order brain dysfunction etc. that causes cognitive dysfunction due to the brain damage resulted from disease or accidents. When the results of the paper tests are good but something seems wrong, all they can do at most is to reply "It is not clear, but it is not recommended to drive very much."
| | | |
| --- | --- | --- |
| On the contrary, there are cases in a fuzzy area, which have been a longstanding question, that cannot be decided to declare that the patient can drive a car when he or she finishes rehabilitation in the convalescent phase and return to society. He says, "Usually, a patient who receives damage in the brain says that he or she feels as if the fog has cleared off when a year or so has passed since the onset of the damage. That is, when the patient is in a misty condition (having impaired consciousness), he cannot even notice the fact itself that he has dysfunction." In addition, since there are not a few accidents caused by drivers with such problems, driving schools and driver's license centers tend to request the diagnosis of a doctor in recent years. | | Simulator for Evaluating Driver's Judgment and Reaction |
Nevertheless, even the diagnosis of a doctor, which can say that a person "has a higher-order brain dysfunction" though, does not serve in determining what kind of influence it has on driving in specific. Background to this is a restriction, for example, that it is not clear when and under what kind of conditions the influences of these dysfunctions on driving appear obviously. To begin with, without being able to reproduce the environment close to the conditions where such influences appear, it is not possible to approach the truth even though various warnings are given.
"This is all what it is (for higher-order brain dysfunction)." It is necessary to represent imaginary scenes that the patient is not actually experiencing on the road so that they can cheat the patient's brain to check his or her reaction and conditions. However, it is rather hard to do so. Thus, he started research into simulators in autumn last year, aiming at introducing a simulator that could be the solution for this problem.
---
Construction of a Simulator and Expectation towards the Future
---
When he and others paid attention to existing simulators, at first, they recognized the existence of a wide range of DS from one similar to a game to one that lacks reality and one that only travels neatly, other than the variety of cost. They also visited a hospital where DS had already been introduced for a similar purpose. However, it was only something like a game and they found no example of applying it that matched the purpose.
Then they firstly pursued realistic reproducibility since it would be meaningless if the patient's brain would not be deluded as if he or she had been actually driving. Secondly, a specific image was drawn for developing a simulator that allowed diverse conditions to be set up for checking the driver's judgment ability or cognitive function. These conditions included scenes with children on the way to or from school or mothers on the way of shopping at the side of a community road, or with a preceding vehicle braking suddenly.
At the end of 2017, Mr. Kataoka visited the showroom of FORUM8 by himself. Judging that it would be possible to construct a simulator to meet the above-mentioned requirements based on UC-win/Road DS, he decided to adapt it. In June 2018, "Simulator for Evaluating Driver's Judgment and Reaction" for evaluating the reaction of patients with a variety of impaired consciousness including higher-order brain dysfunctions on driving was developed and introduced.
Through utilization of the simulator, it was made possible to present judgments as the Hospital, such as "There were no influence of sensory disturbance in the deep part of the right upper and lower limbs, muscular endurance, and diplopia, and the testee was able to keep driving safely for about 30 min.", or "Though minor brain fatigue was recognized during the test, the testee was able to travel without overlooking pedestrians etc., decline of the reaction speed, and delay of judgment speed."
On the other hand, events set up in the simulator are limited to what are at least needed at the start time of use. It is necessary to expand it constantly with additional items such as more diverse situations and timing to appear. He says that he would like to plan personnel training so that the staff members in the center can deal with VR creation while working for regular tasks.
Whether in driving a car or in daily life, if not only the patient but also his or her family understand what will happen to the patient in what kind of conditions, it leads to taking care before a problem occurs and avoiding risks. Besides, as to knowing the degree of influence that impaired consciousness has on driving or daily life, he expects a possibility of developing a new approach.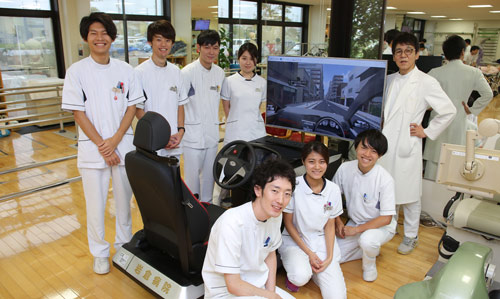 Staff of Rehabilitation Department, Iwakura Hospital, Tiousha Medical Corporation