"In fact, I went to work in Minamisoma city by way of Iidate village yesterday and the day before yesterday".

While news about the Great East Japan Earthquake disaster has been reported every day since it occurred, it may be said that the Fukushima nuclear plant accident is particularly different in that it is still in an unpredictable state now.

When the earthquake occurred, the national evacuation directive was issued within a 3km radius from the power station. It was expanded to within a radius of 20km on the next day. On April 22, the area within a 20km radius was designated as "warning zones" (of the Disaster Countermeasures Basic Act), where it is allowed to declare off-limits legally. At the same time, for the marginal areas situated farther than 20km, "emergency evacuation preparation zones", where it is required to prepare for indoor evacuation and evacuation in an emergency as well as "planned evacuation zones", where it is required to perform planned evacuation are designated.

On the other hand, as a matter of course, the work for restoration is indispensable. Actually, responding to the request from the local governments and so on, Koriyama Survey Design Company goes to various damaged sites to perform survey and design work.

Mr. Haruhiko Sato, Director of Designing Division of the Company, has also been visiting many sites back and forth till now. As a part of this, following the failure of the playground and slope in the adjacent area of Miyakoji Junior High School and Furumichi Elementary School of Tamura city, he visited the site located about 21km from the power station to have a meeting on the previous day and the day before of the interview.

Although it is outside a 20 km radius, it is only vehicles of Self-Defense Force and the police that come and go since the marginal zone is designated as a voluntary evacuation zone. However, highways cut apart and the site that collapsed cannot be kept as they are. As a result, when they get a request, they go up to the border of the warning zone to work for disaster recovery, as Nr, Kazuya Watanabe, CEO and President of the Company explains the actual condition.

This issue picks up Koriyama Sokuryo Sekkei (survey design) Co., Ltd. In particular, we focus on "Designing Division", where our three-dimensional real-time VR software "UC-win/Road" had been introduced before others.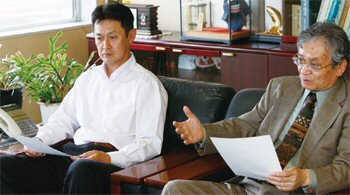 President, Mr. Kazuya Watanabe (right)
Director of Designing Division, Mr. Haruhiko Sato (left),
Koriyama Sokuryo Sekkei Co., Ltd.





Oriented to the Local Community and Committed to Volunteer Activities
Introduced Child Care Aid Package Ahead of Other Companies in the Prefecture


Koriyama Sokuryo Sekkei (survey design) Co., Ltd. was founded in 1965. Since then, it has developed business with survey and design work, and compensation duties as its core. Currently, 68 employees (57 technical members) are working in 3 bases in the Prefecture including the headquarters office (Tomitacho, Koriyama city), Aizu Branch (Shiokawa-cho, Kitakata city), and Tamura Office (Ogoshi-cho, Tamura city).

The Company declares that it pursues design work oriented to local communities, promoting use of VR while accountability of public projects is required. In addition, the Company is active in introducing advanced ICT (information and communication technology) such as supporting GIS (geographical information system) in survey work.

Their main clients include construction offices of Fukushima Pref., its hometown Koriyama city, Tamura city, Sukagawa city, and other municipalities in the Pref. It has also experiences with the work of Koriyama highway office of Ministry of Land, Infrastructure and Transport as well as Geographical Survey Institute.

With its motto of "aiming to be a consultant that is most trusted in the region", the company emphasizes having communication with local communities on a day-to-day basis. In recent years, the company also makes an effort to regional activities such as concluding a volunteer support program.

The company introduced childcare aid package ahead of other companies in the Prefecture. It is promoting environment where male and female workers can take a vacation for delivery and childcare. This has been taken up by domestic and foreign media including Reuter, and attracts attention so much that the office staff practicing the institution is invited as a lecturer for an event of the local government.


| | | |
| --- | --- | --- |
| | | |
| Mr. Toru Toyota, Chief of Designing Division explaining VR data about river regulation of Miharu-machi (front) | | Powerful message for restoration on the window of the company building |




Damage to Part of the Company Building and the Server due to the Earthquake Disaster


The embankment body of the dam reservoir "Lake Fujinuma" in the adjacent City of Sukagawa broke due to the earthquake, causing eight people to be killed. In addition, around the company in Koriyama city, crack of the road surface and the levee, damage of houses such as falling roof tiles, and water supply-related damage were prominent. Or rather, problems revealed for the local communities after the hydrogen explosion in Fukushima Daiichi Reactors unit 1 on the next day of the earthquake. It is said that the Fukushima nuclear accident, with which there is not yet a prospect of resolution, and the damage by rumors of its aftermath bring about still more serious damage.

On the other hand, in the headquarters of the company, cracks developed in the walls and floors, part of the hanged ceiling fell down, and the elevator facility was damaged. However, Mr. Kazuya Watanabe says that the damages to the company building itself were limited and that the damage to computer-related area was the greatest.

The hard disk of the server including the back up use fell down and got damaged. Because of not only its physical damage but also difficulty of restoring the data accumulated in there, there is a concern that it may lead to the loss which cannot be converted to a monetary value.




Applying VR to Various Projects
Process to Realize Creation of VR in the Company


"We purchased UC-win/Road because we thought that creating (3D) VR at no charge will please people, as there were several highway projects with long routes at that time including a by-pass road plan".

Usually drawings on paper are used in a briefing of a highway project for public hearing. They realized the constraint of the conventional technique in presentation to residents who are unfamiliar with such a way. In addition, though there were cases that some major companies created 3D / VR, it was undeniable that it cost high.

In contrast, Mr. Haruhiko Sato, who had been using FORUM8 products for a long time and knows very well about the lineup, paid his attention to UC-win/Road that had just been released as it would allow providing a similar service for a considerably cheap price. He promoted adopting it from early time. However, he remembers that it was unable to manage it just as wanted for a while.

Then after one or two years, it was 2005 fiscal year that the company first tried using UC-win/Road, when it prepared the material for public briefing for the maintenance project of a row of cherry blossom trees along the Ouse river flowing through Koriyama city. There, in performing maintenance, they created VR that showed cutting a cherry tree to what degree has what kind of an influence on landscape by simulating season to season.

Subsequently, in 2006, they created VR as an explanatory material for inhabitants around a block park planned as a part of the land readjustment project in Koriyama city. However, in these projects, actual creation of VR was almost entrusted to FORUM8.

It was a construction plan of roadside station "Bandai" on prefectural Highway No. 7 Inawashiro Shiokawa line that greatly changed the flow into the desire of having ability to create VR in the company. This is a project of establishing a roadside station (Michi-no-Eki) along the prefectural highway right under Bandai Kawahigashi IC of Banetsu Expressway. In 2008, the company created simulation of how the roadside station is seen from the driver's viewpoint who actually use it based on the view of Mt. Bandai as well as the positional relationship with JR Banetsu-West Line traveling in parallel. Since the design of the building had been already decided, the VR was utilized in the process of deciding colors of the roof and walls of the facility or external elements such as monuments or planting.

Furthermore, there was an unexpected effect that an image captured from VR was reused in the poster of the station of the highway.

They largely depended on FORUM8 in this process of creating VR. They strongly realized the necessity of being able to do everything in their own company. Since then, the Company has been actively working on providing environment for having a good use of UC-win/Road, for example, by letting the staff in charge to take part in the learning course held by FORUM8.

Next, in preparing the material for community briefing of the by-pass design of the prefectural road No. 14 Iwaki Ishikawa Line in 2009 fiscal year, VR of route plans were basically created all in-house. In particular, in order to have the highway to be newly constructed felt bodily beforehand by the neighborhood residents as to how it looks, it was represented by letting the viewpoint down under the bridge or in the houses under the highway. In doing so, advanced proposals were made utilizing functions of UC-win/Road, for example, inserting simulation of transition of the shade according to time zone during the winter season and resulting icy roads.

In addition, in 2010, they created VR for community briefing of regulation of the Sakura River in Miharu town, Tamura county, known as the national natural monument "cascade cherry". To reproduce old row of houses in the street along the Sakura River and the atmosphere that people take a walk through there, at first two office staff members took pictures of the roadside of approximately 1km for approximately ten days, then buildings were reproduced one by one with permission. It took two months to make a 3D model. The on-site actual situation was reflected more precisely later, e.g. by elaborating a conduit pipe and an open channel.

Mr. Toru Toyota, Chief at Designing Division in charge of creating VR reveals that he took pains how to faithfully express the river width and bank protection height, as they are not uniform.


VR landscape simulation in the roadside station -
Landscape study of the wayside highway (left) /
Landscape study of the roadside station from a person's point of view (right)




Points of Using UC-win/Road
Development Towards the Revival


Mr. Haruhiko Sato says that whenever UC-win/Road is revised, he adopts new functions and leads them to proposals. Now he pays attention to visualization of the concept for the restoration, creating VR of its erection plan, or possibility of traffic simulation combining signal control and traffic regulation.

His frank impression is that VR absorbs everybody when it is used, changing the atmosphere of community briefing and workshops totally from what it used to be. However, UC-win/Road was left unused for some time after introducing it. Based on such an experience, he insists that at first it is important to play with software as though it is a game even if it is not necessarily related with work.

"You can't go ahead if you say it is impossible because there is no commission. Let's do it at no charge, instead. Look at this. This is how full-scale use of VR in the Company started, I think."

"It is the wish of the citizen of the Prefecture that the problems of the nuclear plant accident including damage by rumors will return to normal soon. Without this, Fukushima pref. cannot advance to the (phase of) restoration."

In this sense, Kazuya Watanabe points out that it is undeniable that uneasiness is increased by the present circumstances that precise information about the accident is not readily given and consequently it is unclear what kind of influences it has.

On the other hand, as to approaches to restoration, he again says that they will respond to requests if there is a need even though it is a site adjacent to a warning zone, as mentioned before.

Furthermore, as a local survey design company, they want to help restoration as early as possible. They want to take part in a restoration project that lead to tomorrow, as he expects the development in the future.
(Interviewed and written by Takashi Ikeno)


Staff of Koriyama Sokuryo Sekkei (survey design) Co., Ltd.
(President, Mr. Kazuya Watanabe in the center of the back row)