The Sixth Pacific Islands Leaders' Meeting (PALM 6) was held in Nago city, Okinawa on May 25 - 26, 2012. This is a summit-level meeting that has been held every three years since 1997 with Japanese leadership. Leaders discuss various issues that Pacific island countries and regions are facing in order to build close cooperative relationships.

Japan has been sponsoring the summit till now and supporting Pacific island countries ahead of others. However, while the international positioning of these regions is changing rapidly, the summit impressed us that in the future the role that Japan plays there will become more and more important.

The first one in this special cover on our users in Okinawa is Department of Civil Engineering and Architecture, Faculty of Engineering, University of the Ryukyus. We focus on "Hydraulic Engineering Laboratory" led by Professor Eizo Nakaza.

University of Ryukyus is the only national university corporation in Okinawa Prefecture. In addition, it is the only university that has the faculty of engineering in the prefecture as well. Partly because of this, the University (Univ.) has an aspect of having a consultant function in the pref.; for example, when some problem such as a disaster occurs in the surrounding area, they are asked to respond as a specialist or receive technical questions about it.

Actually, after Great East Japan Earthquake, he and others have been asked to deal with studies for response to tsunami waves as the top priority. On the other hand, contribution to Pacific Islands related to the above-mentioned Island Summit is one of the activities on which the Univ. lays emphasis. For approaches to realizing them, he paid attention to FORUM8 products, such as the three-dimensional real-time VR software "UC-win/Road", the evacuation model for architectural environment "building EXODUS", and the rain runoff analysis / flood analysis software "xpswmm". He says that they are planning to utilize them on a full-scale basis this fiscal year.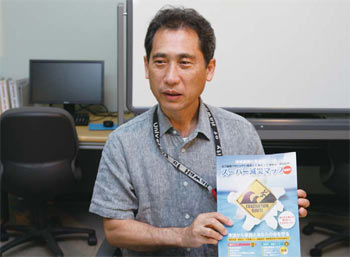 Professor Eizo Nakaza, Hydraulic Engineering Laboratory,
Department of Civil Engineering and Architecture,
Faculty of Engineering, University of the Ryukyus





Positioning of the Hydraulic Engineering Laboratory and Its Activities


Foundation of the University of the Ryukyus (the Univ.)dates back to 1950. Under the U.S. Military Government jurisdiction, 6 faculties were established within the Shuri Castle ruins destroyed by fire by the war: Faculties of English, Education, Social Sciences, Science, Agriculture and Applied Liberal Arts.

After its establishment, while the university received guidance from Michigan State University, the Univ. advocated contribution to the local community through research. While repeating organizing and expansion, it was placed under the jurisdiction of the Ryukyu Government in 1966, reorganized into a national university in 1972 upon Okinawa's return to Japan, and reclassified as a current 'national university corporation' in 2004. At present, 7 Faculties are established: Faculties of Law and Letters, Tourism Sciences and Industrial Management,Education, Science, Medicine, Engineering, and Agriculture. In addition, Graduate Schools are established including Schools of Humanities and Social Sciences, Tourism Sciences, Education, Clinical Psychology, Medicine, Health Sciences, Engineering and Science, Agriculture, and Law.

Faculty of Engineering consists of Departments of Mechanical Systems Engineering, Civil Engineering and Architecture, Electrical and Electronics Engineering, and Information Engineering. Department of Civil Engineering and Architecture is divided into Civil Engineering Courses and Architecture Courses.

Professor Eizo Nakaza is mainly in charge of coastal engineering, marine environment, and fluid dynamics in the Civil Engineering Courses. At the same time, his Hydraulic Engineering Laboratory conduct research on atmosphere and river, oceanic flow, the global environment including the ecological system there, and disaster prevention based on observation in the laboratory and field as well as computer simulation. After the Great East Japan Earthquake, response to tsunami waves in Okinawa in particular is given as an urgent research theme. So much weight is put on the research activities on it.




Laboratory Supporting Research Utilizes ICT



There are some joint-use inter-departmental institutes in the University of the Ryukyus. Disaster Prevention Research Center for Island Regions, which opened in 2008, is one of them.

Okinawa Prefecture is far away from the other regions in Japan, and comprises many islands under the subtropical environment. Like this, its natural and geographical environments have characteristics much different from those of other prefectures. Researcher and experts from inside and outside Japan across a wide range of fields participate in the activities of the Center, which was established to study disaster prevention with such peculiarity. The Center opens its research outcome to public through the Web site as well as copes with its spread and enlightenment by holding symposium etc.

Professor Eizo Nakaza served as the first head of the Center. He currently supports its operation as a faculty member who acts concurrently as an assistant president in charge of the Center.

In addition, the Laboratory possesses its original experiment facilities. They make waves and river flow to occur artificially, and experiment with a model to see what happens if they hit the structures such as a building or the beach. This process is measured with a sensor etc. to collect and analyze data. The results obtained from the experiments are connected to simulation in the Laboratory.

Another facility that the Center is proud of is the mini-supercomputer installed in this March "Disaster prevention simulator 'Ei'". This integrated the advantage of a general CPU of high versatility with that of the GPU (Graphics Processing Unit) specialized into parallel processing that allows high-speed operation. It realizes the computing speed equivalent to 100 times of the fastest computer that has been traditionally used for analysis and simulation in the center.

Partly because it is the latest model introduced early ahead of others in the country, the Disaster Prevention Simulator has the nickname of "Ei", which stands for both "prosper" and Einstein, named after "Kyo", the supercomputer that achieved the fastest in the world in 2011.

"Using MPS (Moving Particle Semi-implicit) method, we capture how a tsunami wave hit highways and buildings three-dimensionally and solve equations. This requires a supercomputer to allow parallel computing."

In other words, tsunami wave analysis is facing a new era, as he explains the basic standpoint. He uses this mini-supercomputer for fluid analysis and simulation of tsunami waves for the time being. He also mentioned that other cooperative researchers use it for calculating and simulating the flow field of complex fluid as well as the mechanism of destruction of steel structures and concrete structures.

Disaster Prevention Research Center for Island Regions


The Laboratory possesses its original experiment facilities.




They Place Expectations on FORUM8 Products for Realizing Contribution to Oceania


"We have started the project to introduce information, technologies and their applied technologies into Oceania (through international students").

When it comes to Oceania, different motives are mingled, causing each nation to compete to strengthen the relationship with the region. In this sense, the Pacific Islands Leaders Meeting sponsored by Japan adopted 'Kizuna' (ties) Declaration, which declares enhancing cooperation over the next three years on the following five areas: (1) response to natural disasters; (2) environment and climate change; (3) sustainable development and human security; (4) people-to-people exchanges; and (5) maritime issues. At the same time, Japan committed to providing the assistance of up to 500 million US dollars (approximately 40 billion yen).

Meanwhile, the University of the Ryukyus is promoting its own international contribution, e.g. by launching a project for the researcher of Oceania to tie up with disaster prevention as a key word. As part of this, Prof. Eizo Nakaza positioned a mini-supercomputer as the most suitable tool to substitute the functions of a supercomputer for developing nations that have difficulties in introducing and maintaining it. Combining this with the three FORUM8 products mentioned at the beginning and training international students from Oceania, he hopes they will be familiar with the basic information and communication technology (ICT) as well as individual software, learn disaster response technologies that make full use of them, and bring them back to each Oceanic country.

This idea partly comes from the fact that he recognizes significance of software. That is, unlike those days when everything was concluded within the laboratory, it is the recent mainstream to send out messages on and on. In such times, it is expected that the international students will be able to spread good software programs, which are used actively and to which the theories of him and others are added, in their homeland as a practical tool. Therefore, the first thing that attracted his attention was UC-win/Road.

It is several years ago that he knew about UC-win/Road. He liked its functions since that time and wanted to introduce it sometime later.

Then half a century passed since a large number of coastal structures were prepared. Since particularly in some cases historical structures are repaired, there is an increasing need to record them so that they can be viewed from different angles and modes. Following this, they came up with the idea to store the historical structure as data in the states before and after repair, and to load it into UC-win/Road.

Later, the occurrence of the Great East Japan Earthquake caused them to pay attention to evacuation from tsunami waves. With EXODUS for the fire-hazard evacuation of the building as an advanced example, they thought that the philosophy in it could be applied to the high tide and river hazard.

In addition, they focused on the local flood damage in realizing contribution to Oceania through application of research outcome. They adopted xpswmm this year as well based on the evaluation of xpswmm as a solution tool, aiming that international students will master it and utilize it after coming back to their countries.

The most important purpose, as a matter of course, was set to use in flood simulation in Okinawa. However, regarding flood simulation, since there are not a few similarities between Okinawa and Oceanic countries from geographical environment such as ocean and rivers to lifestyles, it was assumed that the technologies studied and developed in the Univ. can be used as they are in each country to allow individual disaster response with proper knowledge and ability of application.

They are planning to use all of those FORUM8 products on a full scale from this year.




Integration of the Super Disaster Mitigation Map and Simulation Technology


While coping with different disaster researches, Prof. Eizo Nakaza supervised "Super Disaster Mitigation Map" (published by Seikatsu Chizu Co., Ltd.). The Naha-city edition was published at the beginning of this year.

This acquired patent for its idea of giving lot numbers to the housing part. By doing so, it allowed exhibiting the position of each house within a limited space without a verbal constraint. At the same time, sea level altitudes were distinguished by color in reference to the historic tsunami height in Okinawa. It allowed each person to grasp an evacuation route from the tsunami wave to some extent by him or herself.

He and others hope to expand the area of this Super Disaster Mitigation Map as the next step. Furthermore, they would like to explore the unknown potentiality of the tool by integrating the Super Disaster Mitigation Map and the latest simulation technologies including UC-win/Road and EXODUS with the above-mentioned mini-supercomputer as a basis.

"When we set up the evacuation route and actually visit the spot, we find various obstacles that prevent things from going as desired". Consequently, they draw a target on the next step: for example, visualizing what kind of sceneries is seen and where it is dangerous for a walking child.


Prof. Nakaza and our President Yuji Ito.
The mini-supercomputer "Ei" in the back
Expectation on the potentiality of
"Super Disaster Mitigation Map"
and the latest VR simulation

(Interviewed and written by Takashi Ikeno)