In UC-win/Road, read the geographic tile by the following procedure.


Open "File" - "New Project" - "Importing GSI tiles..." - "GSI tile setting". Need to be connected to the internet to obtain the map.
Expand the range you created. You can magnify to any size with the mouse wheel. Drag to move range. You can also specify latitude and longitude.


Drag: Move the map
Mouse Wheel: zooming in and out of the map




Geospatial Tile Range Setting Screen
Expanding the map


You can move by clicking on the direction of the menu in the map.


Up / down / left / right arrow: Move the map
+ : Expanding the map
- : Shrinking the map


The zoom level is displayed in the menu bar in the standard map.


Maximum zoom level: 17
Minimum zoom bell: 2

The map image can be selected from [standard map, light color map, photo map (after 2007), photo map (1974 - 1978)].


"Photo Map(after 2007)", Using "Geographical Institute title", "Electronic national land map (Orthorectified image)" which published by Geographical Institute.
"Photo Map(1974-1978)", Using "National land image information (Period 1: 1974-1978)".
"Photo Map(after 2007)", "Photo Map (1974-1978)" only can support zoom level 9-17, can not specificy zoom level under 10.
"Electronic national land standard map (Ortho image)", some areas such as mountainous areas are not photographed, so there are places where images do not exist (January 20, 2015).




| | |
| --- | --- |
| | |
| Standard map | Light color map |
| | |
| Photo map (after 2007) | Photo map (1974 - 1978) |



When it is confirmed, the terrain of the display range is generated and the selected map image is displayed as a street map.

It has become possible to be a more compact topographical range than the conventional minimum 10 km square. Terrain meshes can now also acquire meshes finer than the conventional 50 m mesh easily. Expression such as detailed undulations and coastlines etc is possible.



Compact topographical range
Load result

Reproduce detailed relief




Arrange the building by defining the aerial photograph and the standard map as a drawing on the topography where expressions can be expressed only in the required range and expressive power has been improved.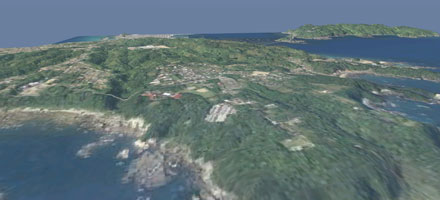 Terrain expression improvement


(Attention points)

When using a project created using this function, it is necessary to comply with the Geographical Survey Institute of Contents. For details, please see "About using Geographical Tiles" on the Geographical Survey Institute website.
In this function, the information of Geographical Tiles is being read based on latitude and longitude. On the other hand, the latitude and longitude of UC-win / Road is a simple calculation using project option information, and since the true north direction angle in the plane rectangular coordinate system is not taken into consideration, the error from the plane rectangular coordinate is Occur. Therefore, when reading data (DM file, shapefile, LandXML etc) created in the plane orthogonal coordinate system, caution is necessary as there may be deviation from the information of Geographical Tile.