Building cloud server
Resolution of intersection texture in UC-win/Road is 1024 pixel by default, and 2048 pixel when creating in high accuracy. Although the upper limit is 4096 pixel, intersection in 4096 pixel cannot be made so much because the data of a vast detailed terrain is easy to be the memory shortage as well as affects the data capacity. In 64 bit version, users can use high resolution textures without worrying about memory, and quality of appearance will be guaranteed even at large intersections.
It is not possible to generate a texture more than 4096 pixel on the texture editor screen, but textures of 8192 pixel is available by converting an intersection to a 3D model.


Fig. 4 Appearance comparison of a large intersection.
Left: 2048 pixel / Right: 4096 pixel


High-resolution section texture
Road textures and textures used for road sections like guardrails and sound insulation walls are usually set to repeat 1 to 2 meter square textures or 4 to 10 meter vertical (horizontal) textures. However, some texture patterns may cause a feeling of strangeness by being able to be recognized as the same texture repetition. In that case, the appearance will be more natural by pasting a very long texture of 60 to 100 meter long that does not repeat the same pattern.
Quite a high-resolution image is required to keep the accuracy of appearance, and the 64 bit version can support this without any problems.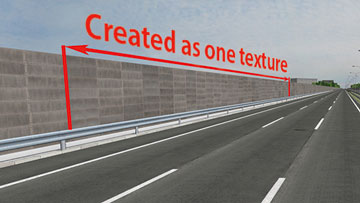 Fig. 5 One texture of a 64 m sound insulation wall
(1024 x 16384 pixel)


Other textures
High resolution textures are often used for terrain textures, aerial photos, sky domes in addition to intersections and sections. In the case of sky domes, a very detailed and delicate starry sky like the image below can be drawn by creating a texture of 16384 pixel.



Fig. 6 A starry sky dome of 16384 pixel