UC-win/Road for RoboCar(R) Plug-in Option
| | | |
| --- | --- | --- |
| | + | RoboCar(R) |

Plug-in option overview
UC-win/Road for RoboCar(R) plug-in option is an integrated simulation system with a scale model car robotics platform, "RoboCar(R)" and a real-time 3D VR software program, "UC-win/Road".
VR simulation system can now be used to control a 1/10 scale electric car model on a model road by integrating "UC-win/Road", which has a sophisticated driving simulation feature, and "RoboCar(R)", a car robotics platform using the latest robotics technology.

What is RoboCar(R)?
RoboCar(R) is a scale model car developed by ZMP and has following features:
1/10scale modelof a real car
Real car like powertrain, suspension and steering system
Stereo camera and high speed image recognition module
Equipped with Obstacle detection using stereo view and traffic lane recognition algorithm
Uses gyro sensor, accelerometer, rotary encoder and other internal sensors
Uses infrared distance detection sensor, laser range finder (sold separately) and other external sensors
Monitoring of the electric current in the motor and the remaining battery power
Runs on Linux, the open-source OS, which provides flexible development environment for application creation
Links with PCs wirelessly

Combination of UC-win/Road and RoboCar(R)
In UC-win/Road, detailed representation of 3D space with a wide variety of traffic situations and scenarios can be achieved, and users can drive in this 3D space freely, and RoboCar(R) is a 1/10 scale model of real car that can be driven around in physical reality. With the combination of these two products, simulation in multiple realities can be made possible for tests that cannot be carried out in virtual reality.



Create a model of the driving environment (top),
and simulate driving inside 3D VR (bottom)

Data Logging
| | | |
| --- | --- | --- |
| | | |
| Logged data | | Calculation of trajectories |
UC-win/Road enables the creation of large scale Virtual Reality (VR) environment with easy-to-understand procedures and operations. Through this technology, FORUM8 is able to provide a wide range of real-time simulations for a wide range of clients.
Our work with RoboCar(R) enabled us to go beyond VR and provide simulations in Mixed Reality (MR). The linkage between RoboCar(R) and UC-win/Road opens up new possibilities for a wide range of simulations.
RoboCar(R): RoboCar(R) & SDK 2010

Scale model car and robotics
With the advancement in Automotive Technology and Robot Technology, intelligent next-generation vehicles will share a variety of technologies with autonomous mobile robots. For research and education in this field of robotic cars, FORUM 8 provides 1/10 Scale model car platform.
This robot technology can be applied to the initial research on autonomous mobility, intra-vehicle communications, human-vehicle interaction and many more. Additionally, we will provide this system to universities, businesses and other organizations as engineering education tool to bridge the gap between the industry and the academics, to be used for studies on control theory and automatic control, and development process education.

Sophisticated environment recognition platform
Stereo camera image processing module
With the built-in stereo camera and image processing module, real-time image processing can be achieved, enabling verification of algorithms of autonomous mobile systems inside a laboratory.


Infrared distance detection sensors
Infrared sensors onboard this platform can be used for obstacle detection, parking assistance etc. The sensor can be placed at the front, the rear or the sides on the designated attachment bars.


Gyro sensor, accelerometer, rotary encoder and other internal sensors
Various sensors are available for vehicle dynamics analysis etc.


Miniature laser rangefinder
A laser rangefinder is available as an option; ideal for major research in autonomous control system.


Electric scale model car
Linkage between the electric car system and MATLABR/Simulink, enabling remote control via wireless communication


User application
The scale model car is controlled by an OS, which communicates with the user application on the PC, thus, enabling linkage with various devices over the wireless network.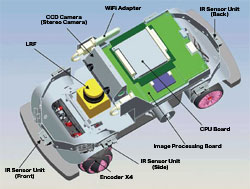 Image of chassis and mounted parts

Possible application, examples of use
Research for: hazard avoidance technology; automatic parking; algorisms of autonomous driving; group control; infrastructure cooperative systems etc.

RoboCar(R) specifications



Name
RoboCar(R) / ZMP RC-Z
size/ weight
429.0 x 195.0 x 212.2 approximately 3kg (Max. 1kg additional devices)
Basic system
configuration
stereo camera
VGA CCD 30fps (x2)
Image processing module
ZMP module (IMAPCAR(R) : NEC parallel processor)
Main controller
CPU : AMD Geode(R) LX800 Processor 500MHz
Communication module
Wi-Fi communication module IEEE802.11 b/g/n
Internal sensor
1-axis gyro sensor
3-axis accelerometer
Rotary encoder (wheel x4, motor x1)
External sensor
Infrared distance detection sensor (x8)
Laser rangefinder *option
Chassis,frame
Carbon FRP chassis,Double wishbone suspension,ZMP original aluminum frame
Motor driver
ZMP original module
Servo Motor
Servo Motor for robots
Motor for driving
Small sized DC Motor
Battery
Battery for control system - AA Nickel-metal hydride (x12)
Battery for driving - Nickel-metal hydride (x1) 7.2V
main controller OS
Linux (software real time)
Control software
Control software, ZMP library, Network software
Image processor
Dedicated code
OS
Windows(R) / Linux
Development environment
gcc


* "RoboCar(R)" is a registered trade mark of ZMP Inc.

Future development plans
The second phase of the development plan is the development of VR simulation system that can detect the driver's posture and movement by linking "UC-win/Road" with "e-nuvo IMU-Z", ZMP's 9-axis motion sensor.
Joint marketing agreement between FORUM8 and ZMP
Linkage between FORUM8 Driving Simulator and RoboCar(R), the car robotics platform by ZMP
Agreement has been reached between FORUM8 Co., Ltd. and ZMPInc. to collaborate with the aim to advance the research and development of automobiles, next-generation mobility systems and autonomous robots.

In the initial phase, "UC-win/Road for RoboCar(R)", VR simulation system was developed to allow linkage between "UC-win/Road", VR software by FORUM8 and "RoboCar(R)", a car robotics platform by ZMP.
This linkage will enable the simulations, both in real and virtual environments, of automobiles as well as autonomous mobility robots which can be used for cleaning, surveillance, logistics and many more.