The building that ITS laboratory is located in(left), Students of the lab(right).
Department of Transportation Engineering in University of Seoul was established as the transportation engineering major in the department of Urban Science in 1988 and became the department in 2005. Currently 8 professors are the member of the department.
More than 200 people has graduated so far and are now working at government, local governments, national enterprises, laboratories and large companies.
Research and education on following categories are conducted at the department of Transportation Engineering: development, design and operation of traffic facilities, political decision and planning, traffic safety, advanced traffic systems, logistics, railways and public traffic.
As the only department of traffic engineering located in Seoul, the department is boosting both of domestic and international exchanges and is promoting advanced technology development moreover.
ITS laboratory was established in September 2012 after Prof. Dongmin Lee came, and has been working toward researches of design and operation of road and other traffic institutes, and intelligent traffic systems, which are all based on traffic users' aspects.

-Location : Room 217, 21st Century Building, University of Seoul, 163 Seoulsiripdae-ro, Dongdaemun-gu, Seoul, Korea
-Phone : +82-2-6490-5651
-Professor : Dongmin LEE
-Email : transldm@gmail.com

1 full-time doctoral student, 3 master's students, and 6 adult master's students are studying under Prof. Dongmin Lee now. 2 students have finished master's course in this February.

Main research performance of ITS laboratory
"Simulation analysis while driving on 2+1 road" is the task to evaluate the safety of 2+1 road prior to the construction.
2+1 road is the new type of road and its design guideline was made in 2009 but wasn't built actually. A lot of considerations are required before construction and safety evaluation was conducted by Drive Simulator(DS) experiment to analyze driver's behavior for the design plan of the first 2+1 road. Experiment to measure driver's stress by brain wave analysis equipment was also conducted and VR data were made by UC-win/Road program. VR data of this study won Honorable Judge's Award(Design Award) in "3DVR simulation contest on cloud", of which the award ceremony was held in FORUM8 Design Festival 2013.
The 3rd CPWC Prize-winning work
Title: Safety notification of when overtaking car through on Screen Display

Summary: This plugin helps promote the safety of the driver and the road safe and economical design of the road designer.
Purpose: To rise driver's safety and to reduce road construction cost.
Need: UCwinRoad have not yet to equip the Plugin about overtaking.
So, this plugin will need for various users.
Importance: The driver's safety ensure through the proper Guidance at overtaking situation.
Economical road design because excessive passing sight distance for road design cause costs a lot of construction.
Function: Notify Some proper Information to drivers at overtaking situation.
It offer the Passing Sight Distance based on AASHTO formula.
"Development of the evaluation system for nighttime road visibility" is the research to make criteria of road lighting development through reproducing the road image in VR after measuring how bright it is on the actual road and then evaluating how driver feels. Creating VR under various lighting conditions by functions of UC-win/Road, satisfaction with the brightness and driving environment was evaluated from both points of view of general drivers and elderly drivers.
"Improvement study of highway service in consideration of the elderly" is the project to create highway improvement plan in preparation for the coming aging society and it is based on the behavior analysis experiment of elderly drivers. Using VR data created by UC-win/Road and a drive simulator in the laboratory, simulated driving experiment which is related to various driver's behaviors of general drivers and drivers over 70 years of age has been conducted. Basic data such as driving speed, addition-subtraction speed, car position and driver's behavior are derived through this experiment and then length of acceleration lane, senior-friendly road sign positions or shapes, radius gyration of ramps, danger areas for seniors were decided. In addition, brain wave analysis equipment "Eye-Tracker" analyzed drivers' physical characteristics.
In the case of "Driver's sight experiment for evaluation of the visibility of delineators" evaluations on appropriateness of the position of ITS facility, installation interval, driver's reaction and perception are created with the help of DS.
"Study of safety by the difference in the highway shoulder" is also executed through the use of DS and UC-win/Road to figure out the problems which are arisen when road shoulders are used as variable lane.
Research Theme
Period
Contractee
Simulation analysis while driving on 2+1 road
2013.01 - 2013.06
Seoul Land Management Institute
Advanced research of high-accident location improvement project
2013.10 - 2013
Road Traffic Authority
Development of the evaluation system for nighttime road visibility
"The experiments of the road lighting criteria related to a driver's sight"
2014.05 - 2014.10
Korea Institute of Construction Technology
Improvement study of highway service in consideration of the elderly
2014.06 - 2014.12
Korea Expressway Corporation, Korea Transport Institute
Senior pedestrian in VR
Development of simulator for traffic safety education
2014.12 - 2015.11
Seoul Business Agency
Driver's sight experiment for evaluation of the visibility of delineators
2015.03 - 2015.08
Korea Institute of Construction Technology
Study of safety by the difference in the highway shoulder
2016.03 -
Seoul-Chuncheon Highway Co., Ltd.

Main research records of ITS laboratory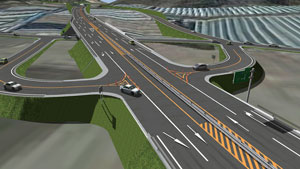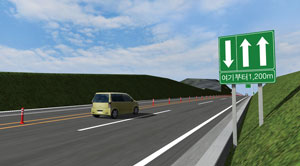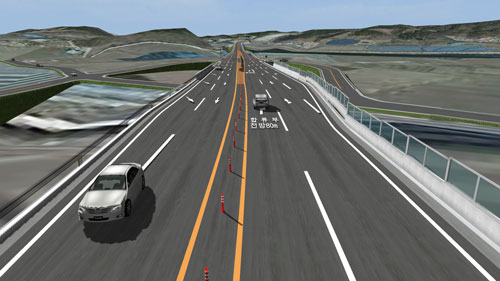 The 12th 3DVR Simulation Contest on Cloud Honorable Judge's Award Design Award
"The Use of VR Simulation of a New Type of Road"
Now and Future
In this laboratory, students are studying mainly to seek essence and cause of traffic problems and to find a solution through ITS from the point of view of the traffic users. The objective of the lab is to train professionals who research on new investigations and analysis methods in tune with the trend of traffic field and will be able to contribute to resolution of urban traffic problems through practical application of their studies.
Recent researches focus mostly on the basis of behavior analysis of older drivers and pedestrians, especially "the study of traffic policy for changes on popularity construction in the future society", "Improvement study of highway service in consideration of the elderly" and a current project "Virtual reality utilized development of the simulator for pedestrian traffic safety education" are the main examples.
Regular academic workshops with DS specialists in Korea are held to find studies in the aspects of traffic facility users. The laboratory will study more while sharing experiment results of VR driving simulation done in various laboratories.
Through these workshops and activities, they are expanding the possibility of UC-win/Road and attempt to make various study results.
ITS laboratory is promoting the study of carrying out theory and practice at the same time and also holds academic seminars. Students are provided directions to choose their own career options after finishing graduate school: taking a job, going to upper course, or studying abroad. It is expected that the laboratory continues to develop much further by conducting a look-ahead research in the aspects of traffic facility users that has lots of attentions with the development in IT field at home and abroad.
Through the continued relationship with FORUM8 and FORUM8 KOREA, the laboratory will create more opportunities for participation in collaborative studies and developments hereafter.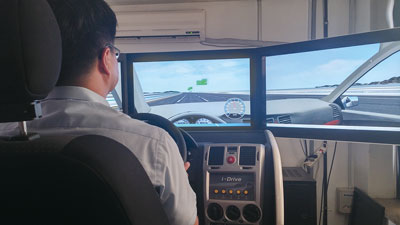 Simulation by UC-win/Road drive simulator