"It often happens that major manufactures ask us if we can manage anyhow (after they repeated a great deal of trial and error). We are good at producing something by combining a camera and such (hardware and software products relating to video and images) in response those requests. We think that is our strength."

Our user in this issue is FLOVEL CO., LTD. The company develops and offers diverse, highly specialized products including special cameras for professional use and their application systems. We focus on Application System Development Group, in charge of developing software for various products that FLOVEL deals with and systems to which those techniques are applied.

Having started with development and manufacture of products such as a measurement camera to be incorporated in the production line of factories, FLOVEL has been realizing unique products for many different fields ranging from science and industries to sports and entertainment, extending the function of "viewing". In particular, it has ample experiences in OEM (original equipment manufacturer) and ODM (original design manufacturer) business, and also emphasizes development of its original products based on the accumulated knowhow and technologies, according to Mr. Daisuke Gushi, Engineer of Application System Development Group, FLOVEL CO., LTD.

One of the systems the original products developed by Application System Development Group is a virtual cycling system "cycleStreet series".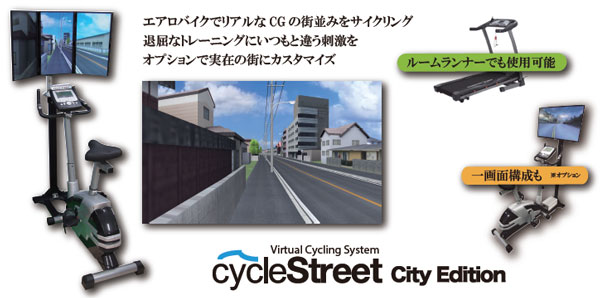 "City Edition" of "cycleStreet" series, which has adapted UC-win/Road


For developing new products for the series, the Group adopted FORUM8's three-dimensional (3D) real-time VR (virtual reality) "UC-win/Road" this year. The technologies built up in the company related to the series as well as its products developed by incorporating UC-win/Road were exhibited in the 21st 3D & Virtual Reality Expo (IVR) held from June 19 to 21, 2013 at Tokyo Big Sight.



Enhancing from Video and Image Equipment for Measurement to Diverse Application Systems


FLOVEL CO., LTD. was established in 1975 as FLOVEL Engineering Co., Ltd. (Suginami City, Tokyo) for development, manufacture, and marketing of video measuring equipments. Later, the company changed its name to its present name after moving (into Nakano city, Tokyo) and capital increase. Then it moved its head office to the present office (Tachikawa city, Tokyo) in 1994. The head office accommodates both of the service office and institute.

Starting with an ultra-compact silicon vidicon camera at the time of foundation (1975), FLOVEL developed video and image related devices mainly for measurement, including a measuring device with image processing (1977) and a color video camera for microscopes (1980). Then gradually enhancing the target field, FLOVEL has been developing and manufacturing single units of cameras and systems that incorporated them.

In the mean time, FLOVEL developed items such as: the goal judgment device for the track-and-field events using IC memory (1982), character recognition device (1984), ultra-high sensitive color camera (1987), high-performance image processing device (1991), high vision image-processing device (1996), high pixel digital color cameras (1998- step by step), three-dimensional universal micro image measuring system (2001), autofocus for digital cameras (2003- step by step), 3CCD color camera supporting operation microscopes (2006), ultra high-resolution full-spec high-definition stereoscopic camera photographing system (2007), high-definition medical full-spec camera (2008), golf round simulator (2009).

In recent years, it has manufactured products including the piezo-type digital camera with 145 million pixels (2010), EM-CCD high-definition camera (2011), and the golf simulator (2012).



Shots of the Space and Deep-sea with Ultra High-sensitive Cameras Creating a Sensation on TV
Also Putting Efforts into Development of Radioactive Substance Visualization and Biotechnological Products




Mr. Daisuke Gushi, Engineer at Application System Development Group, Applications Division, FLOVEL CO., LTD.
cycleSteet series (in the showroom of FLOVEL).
"City Edition" represents the streets
of Shibuya using UC-win/Road.

The field receiving the most attention currently in FLOVEL is the ultra high-sensitive camera, as Mr. Daisuke Gushi mentions above all.

For example, FLOVEL's ultra high-sensitive high-definition camera is loaded on the International Space Station (ISS), having already realized diverse shots.

In addition, the ultra high-sensitive camera developed by NHK with FLOVEL succeeded in shooting giant squids living in the deep-sea. This was broadcasted in an NHK TV program in this May. Furthermore, after the Fukushima No. 1 nuclear power plant accident, it has been used for shooting the facility from the long distance and for monitoring at night.

Also responding to the Fukushima No. 1 nuclear power plant accident, FLOVEL developed a camera to photograph radioactive rays and visualize their intensities (RadiCam). It is expected that its easy operation, high-sensitive measurement capability and excellent mobility make it possible to contribute to promotion of efficiency of decontamination work.

"The time lapse system with 3D autofocus (AF) function", which can be equipped with a microscope and is capable of long-time shooting and playback while changing focus freely, is put to active use in the fields of medical care and biotechnology. Regarding this, FLOVEL opened FLOVEL BIO Show Room (Bunkyo city, Tokyo) in September this year. It aims at having users experience the company's bio-related products and offering solutions to them.

FLOVEL's business is composed of 7 groups as follows:
1) Video Equipment Development Group, mainly dealing with cameras, with emphasis on development of ultra high-sensitive cameras used in shooting the space and deep-sea as mentioned above in recent years,
2) Control System Group, dealing with AF equipment, automatic alignment equipment and so on, and having a great deal of experiences for screen printers manufactures,
3), Movement Analysis System Group, which deals with golf-related equipment and the order-of-arrival judgment devices for track and field athletics,
4) FA System Group, which proposes and develops systems for factory automation (FA) that meet the different needs of users,
5) Marketing System Group, which deals with sales of bio-related products and operates FLOVEL BIO Show Room,
6) Application System Development Group, which develops software for FLOVEL products and their application systems, and
7) Special Equipment Development Group, which mainly develops hardware other than the above.
About 30 engineers are positioned at these groups to conduct development and manufacturing using advanced technologies freely in each area.



Towards Development of New Version of the Virtual Cycling System
Improved a Sense of Reality Using UC-win/Road



Application System Development Group, which we report this time, used to be a group named "Software Development Group" that mainly conducted programming for FLOVEL products. Gradually, development of application systems and their sales engineering came to account for higher proportion. Thus it was reorganized into the present organization 2 years ago. This has led to development of application system such as the above mentioned radioactive substance visualization camera "RadiCom" and a virtual cycling system "cycleStreet series".


Staff of Application System Development Group at the Showroom

In the Group, Mr. Daisuke Gushi has been in charge of creation of software for autofocus systems and CG for the golf simulator "School Coder", as well as a virtual cycling system on which we focus.

Originally, he was engaged in OEM work relating to goal judgment for the motorboat and bicycle races in conjunction with production of goal judgment devices for track-and-field athletics mentioned above. As its extension, he accepted a request of developing a system that applied a bicycle simulator. This led to the cycleStreet series "Sprint Edition", in which 2 road bikes run a race on a virtual course modeled after the actual cycle track, and "City Edition" in the same series, with which one can feel as if cycling on the street, with sense of reality given by CG during the training on an exercise bike that tends to be dull.

"This system (of City Edition) and the CG (used in it) are originally what I had simply created (using the game engine "Unity"), and I had been exploring if I could develop more serious one."

In the mean time, looking at UC-win/Road Drive Simulator of FORUM8 exhibited at the 23rd Japan IT Week held in May this year (at Tokyo Big Sight), he paid attention to its possibilities. In particular, since he was "stuck with the conventional method for what to do to represent the reality of the road," he expected that use of UC-win/Road would allow him to clear such restrictions. He drew up a plan to set 3 screens as opposed to the original model that had one screen, to create courses with detailed elaboration, and to pursuit a sense of reality as if traveling on the real road.

Then it was soon decided to introduce UC-win/Road. It was started to develop the new version of City Edition with three-screen panorama images fort exhibiting at the IVR to be held the next month, as mentioned at the opening. It was completed after fine adjustments continued until just before its public release.

To produce this system, the originally developed speed sensor is incorporated into a commercial exercise bike, and a DLL (dynamic link library) to read the rotation rate from it is connected. It is linked with a three-screen panorama display with VR CG created with UC-win/Road. The course of the system for exhibition, going around Shibuya Station, was built with the data created by FORUM8. When a visitor pedals the exercise bike, CG moves according the speed. It realizes mechanism to have one do exercises while enjoying urban cycling as if it were a game.



Advantages of Introducing UC-win/Road and Future Expansiona


After exhibition at IVR, multiple visitors have inquired FLOVEL about customizing based on the exhibited system. It was indicated that there were needs for applying the system such as to prevention of wandering of elderly people in nursing-care facilities, training bicycle beginners, and diversification of courses such as in suburbs. Regarding these, Mr. Daisuke Gushi mentioned necessity of using UC-win/Road more effectively. On the other hand, he also focuses on further possibilities obtained by linking with other advanced technologies such as a glasses-type 3D display.

"We have to make a program by ourselves with the (conventional) method to use Unity etc. However, it is wonderful that (with UC-win/Road) it makes it possible to create (video at a certain level) as long as we learn how to use it."

In short, its advantages are that by making the troublesome processing efficient, they can concentrate on the work that they are essentially good at, that is, to develop a new system by combining various hardware and software, as he summarizes.

(written by Takashi Ikeno)