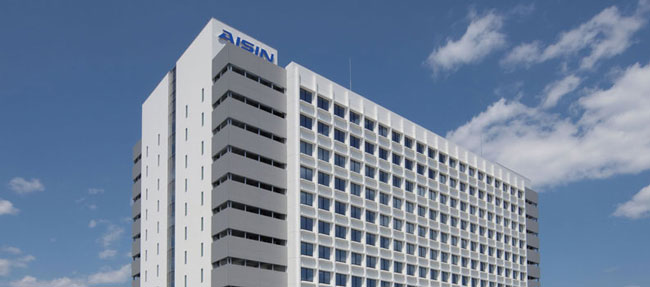 Common building, Aisin Seiki Co., Ltd. (Kariya city, Aichi Pref.)


"ITS World Congress" is where the best ITS (Intelligent Transport Systems) technologies are found in one place. Being the 20th anniversary and the third time to be held in Japan after 9 years, ITS World Congress Tokyo 2013 was an unprecedented success (October 14, 2013: at Tokyo International Forum, from 15 to 18: at Tokyo Big Sight).

There were about 700 exhibition booths from domestic and foreign agencies and companies at the exhibition held at Tokyo Big Sight in parallel with the Congress. Among them, it was impressive that a joint booth, operated jointly by three companies of AISIN Group (Aisin Seiki Co., Ltd., Aisin AW Co., Ltd., and ADVICS Co., Ltd.), equipped with several simulators of sophisticated design that suggest near-future vehicles placed boldly, attracted attention from a large number of visitors.

Our User Report in this issue features Aisin Seiki Co., Ltd. (AISIN), which is known as one of the major automobile parts manufacturers in the world. Special focus is put on its advanced ITS technologies for drive assist including circumference monitoring.

Not only making an appeal for its ITS-related technologies and services ahead of the times, AISIN explored various approaches to having a wide range of people experience them. With this as the background, AISIN introduced three-dimensional (3D) real-time VR "UC-win/Road" of FORUM8 for the first time in ITS World Congress 2010 (the 17th ITS World Congress Busan) to develop a driving simulator (DS).

Since then, AISIN kept on improving the DS and using it effectively. In the "20th ITS World Congress Tokyo 2013" mentioned above, AISIN built up a brand-new-type simulator that enables people to have experience with augmented reality along with reproduction of new functions and services, according to Mr. Eiji Niwa, Team Leader, The 2nd ITS Group, The 1st Electronic Engineering Dept., Aisin Seiki Co., Ltd.



Expanding Global Network and Business Fields
AISIN will reach its 50th Anniversary Next Year



It was in 1965 that Aisin Seiki was established with the merger of Aichi Kogyo and Shinkawa Kogyo. Next year in 2015, it will reach the 50th anniversary of the establishment.

AISIN has developed a global network consisting of 171 consolidated subsidiaries across 20 countries (65 in Japan and 106 abroad), 9 equity method companies (4 in Japan and 5 abroad). The network includes Aisin AW Co., Ltd. that specializes in automatic transmission car navigation and ADVICS Co., Ltd. in brake system. Under them are working about 13,000 employees within AISIN independently, and about 88,000 on the consolidated basis (both figures as of September 30, 2013).

Services of AISIN cover a range of fields as follows:
1) Automobile parts from transmission to body, brake systems, engine-related parts, and car navigation.
2) Home and life style products including beds, housing equipment, and sewing machines.
3) Energy-related products such as gas heat pumps and cogeneration systems.
4) Welfare products such as electric wheelchair.
5) New business such as optical and bio fields.
In particular, bringing out the strength of the group companies that cover almost all of automobile parts, they are promoting efforts to realize "more comfort and ease of use", "better mileage", and "improvement of safety" of automobiles.


Mr. Niwa, Team Leader, the 2nd ITS Group, the 1st Electronic Engineering Dept.
UC-win/Road Introduced in DS for "ITS World Congress Busan 2010"
Belonging to The 1st Electronic Engineering Dept. that deals with various automobile-related electronic technologies, the 2nd ITS Group that we interviewed is in charge of planning work to make an appeal for its near-future ITS technologies developed in the company.

ITS aims at improving road transportation in terms of safety, environment, convenience and so on, through mechanism of communication among "people", "roads", and "vehicles" using the state-of-the-art ICT (information and communication technology).

Towards this, AISIN has been making efforts in research and development of diverse safe driving assist systems that help avoiding accidents by warning signals or mitigating damages, when detecting abnormal conditions of a driver.

Before exhibiting in the "17th ITS World Congress Busan 2010", AISIN made studies on how to effectively share its advanced ITS technologies developed by the company and its services provide, having potential users experience them as soon as possible.

Consequently, AISIN introduced UC-win/Road to have its services it wants provide understood more deeply. They came up with an idea to develop a simulator by which its ITS-related technologies are represented with VR (virtual reality), which in turn will be designed for vehicles on the market.

In specific, they focused on the function of aiding the driver's driving by preventing accidents (safe driving assist system) as a measure against traffic accidents. They realized a simulator that allowed visitors to effectively experience various dangerous scenes set in advance as well as new functions of safe driving assist with ITS in response to these scenes.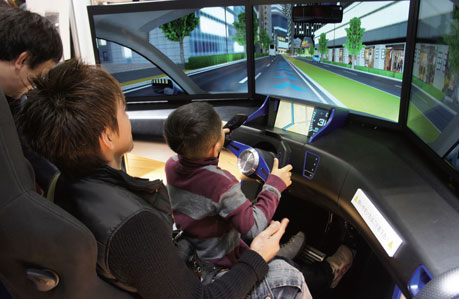 Having experience of the ITS simulator
DS Design Renewed in "ITS World Congress Tokyo 2013"
Functions Upgraded to Get Real Feeling of "Contact Between People and Automobile in the Near Future"

| | | |
| --- | --- | --- |
| | | |
| ITS World Congress 2013 (AISIN booth) | | ITS simulator (AISIN original design) |

Based on this simulator developed in 2010, AISIN has been improving it continuously, utilizing it in the subsequent ITS World Congresses (2011 in Orlando, USA, 2012 in Vienna, Austria) and other events.

"Years have passed since we developed the simulator of the previous generation (2010), so (we had a basic idea that) it should be replaced with new one."
However, when they started studying on the simulator for exhibition in the "ITS World Congress Tokyo 2013", they decided to continue using UC-win/Road as a basis, not only because the "FORUM8 simulator is optimum (as the simulation environment for ITS technologies of AISIN)", but also because they "want to make most of the assets of experiences piled up in joint efforts (with FORUM8)", as Mr. Eiji Niwa recalls.

To take part in exhibition of "ITS World Congress Tokyo 2013", three companies of Aisin Seiki, Aisin AW, and ADVICS started a project on the theme of "'People-friendly Mobility' towards realization of sustainable community that are safe and enjoyable" after repeated studies. At the same time, three concepts were raised: "Unconcernedly, without discrimination, without interruption", "Everyone feels at ease", and "Exciting".

Based on these, in the exhibition booth, DS's were exhibited so that visitors can experience simulation of near-future driving envisaged by AISIN Group ("Contact Between People and Automobile in the Near Future"), with panels about technical papers to be presented in the Congress and related products. Also in Showcase (demonstration including test ride), it was planned to perform "Safety support within the community zone", a program to use an in-vehicle camera, navigation and brake systems.

Among them, regarding DS, three solutions were proposed:
1) Support anytime and to anywhere, unconcernedly,
2) Ensure safety by visualization, safety not to miss, safety not to crash,
3) Pleasure of driving.
At the same time, they examined a scenario to have visitors experience combined technologies of the three companies.

In specific, from viewpoints of "reduction of accidents" and "improvement of safety", menus that reflect many different functions were incorporated such as:
(1) "AR Guidance", which gives necessary superimposed information according to the actual surrounding environment.
(2) "Agent", which casually offers information drivers may need.
(3) "Calling Attention" or "Automatic Brake", which are performed as needed while monitoring the condition of a driver.
(4) "IPA*", which allow drivers to park with ease without complicated manipulation ---.

* IPA (Intelligent Parking Assist): a system for assisting steering operation for parallel parking or parking a car in a garage.

One of the tough challenges was how to realize a feeling of back-in parking while watching the front monitor, says Mr. Eiji Niwa. To solve this, bodily perception close to the actual parking service is enabled through such mechanism that only the front monitor display represents backing scene and that the movement of steering is linked to the monitor screen while parking service is conducted.

In addition, considering the intention of simulating near-future driving functions, the appearance of DS was designed in a futuristic form. Made of FRP (fiber-reinforced plastics), its case was prepared based on the design made by Design Dept. of AISIN. Steering with excellent functionality was also adopted.

This time, they prepared three DS's for the purpose of providing experiences of these new solutions. One of them supports 6-axis motion control, leading to creation of environment closer to the actual movement.


VR of UC-win/Road utilized with the simulator on the theme of
"Contact Between People and Automobile in the Near Future"
Needs for DS and its Future Possibilities of Use
Since it is hard to have the services we want to offer (through ITS) understood (by the public) just by words, a simulator plays a role of having visitors actually experience (simulation) (in the environment where realistic conditions are reproduced)". All the more because of this, "We stick to our requests that the display should be clear, or images should be close to an actual car".

As to this point, they repeatedly elaborated manufacturing while continuing last-minute adjustments with us FORUM8. As a result, they were mostly able to realize functions and reproduction of reality as they aimed at, as Mr. Eiji Niwa puts it as his evaluation of DS of this time.

Following a good feel in "ITS World Congress 2013", the DS has also been used in Tokyo Motor Show, Aichi ITS World, and Detroit Motor Show.

In future, they expect further possibility of utilizing it in consideration of improvement for more advanced reality including a feel of brake.

"You can't get experience of contents services of security and safety using an actual car (because of a problem of danger). (Partly because of this,) I think the simulator (developed this time) is excellent in representing reality, making it easy to experience.
Reported and written by Takashi Ikeno