"Companies, including us, have been dealing with three-dimensional (3D)-based data since long ago; it is not just a recent tendency. However, due to hardware and software constraints, there were no adequate tools for us to materialize our imagination (by effective handling of 3D data) (through civil engineering projects)."

Then with hardware continuously improving performance and software getting easier to use in these years, various functions have become practicable. Lately, moreover, a 3D-based approach only for visual appeal has been shifting to that for utilizing 3D data according to multiple purposes across different phases. Mr. Shinya Sugiura, Manager, Information Planning Section, Division Management Dept., Civil Engineering Division, Obayashi Corporation, reviews the changes in Information and Communication Technology (ICT) surrounding civil engineering projects and in environments of using 3D data that lead to CIM (Construction Information Modeling) as above.

Our user to feature in this issue is Obayashi Corporation, a super general contractor. We focus in particular on "Information Planning Section" in "Division Management Dept., Civil Engineering division" that unifies the company's entire civil engineering projects in and outside the country. The Section directs utilization of ICT towards improvement in the productivity of construction sites and also is responsible for building environments suitable for this.

We are grateful that the civil engineering departments of Obayashi Corporation (the Company) have been using FORUM8 products for a long time, amounting to dozens of kinds of software programs on design and analysis etc., with more than 100 licenses. Particularly in recent years, they introduced "UC-1 Engineer's Suite", a set of products for cloud-support UC-1 series. In addition, as part of supporting CIM, they also have adopted three-dimensional (3D) real-time VR "UC-win/Road".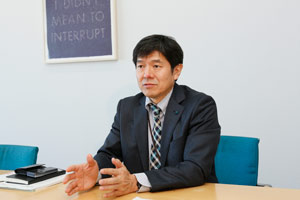 Mr. Shinya Sugiura, Manager, Information
Planning Section, Division Management
Dept., Civil Engineering Construction Division




Accumulated Tradition and Technology for over 120 Years

Founded in 1892, the origin of Obayashi Corporation started as a civil engineering contractor "Obayashi Ten". Through more than 120 years since then, it has developed into one of the super general contractors, which represents Japan after repeated reorganization and expansion. The company has been building up excellent results in a wide range of areas including construction works in and outside the country, construction projects such as regional and urban development, ocean development, and environmental improvement.

Completed in 2012, "Tokyo Sky Tree" (Sumida City, Tokyo) is one of the works that symbolizes the Company's high technology and highly qualified construction services of the present day. They have also handled a large number of domestic and overseas buildings and facilities that are epoch-making or meeting high-degree and advanced needs.

The number of employees, who support these activities, is about 8,500. The Company has established a wide network of domestic offices including its head office in Minato City, Tokyo (15 in total of main offices, branches, research institutes, and machine factory) as well as overseas offices (Asia: 8 countries, North America: 2 countries, Europe /Middle East /Oceania: 5 countries).

Building ICT Environment for Risk Management and Increasing Production Efficiency in Construction Sites

"There are similar sections (responsible for planning how to provide ICT tools to be used in construction sites) both for architecture and civil engineering, and I am working mainly on civil engineering."

Contrary to "architecture", which considers information sharing mainly with private clients, "civil engineering" works, for which government-ordered works account for the majority, require information sharing among the governmental client, the contractor, and the subcontractors. There is such a big difference in the core basis. There is also a problem of labor shortage in construction sites in recent years. It is an important mission to have ICT to be usable in order to increase production efficiency having roots in the job sites, says Mr. Sugiura.

With this as a backdrop, the Company's civil engineering departments have adopted a wide variety of FORUM8 products since long ago including design and analysis software. The substantial users are engineers who belong to Production Technology Division (more than 220 as of now). Partly because the staff highly evaluated FORUM8 products, they actively promoted their use, according to him.

Since unspecified number of users (or all users at the maximum) had to use diverse software programs at unspecified times (at any time), they operated the programs on the house server using USB keys for license authentication. However, the inhouse network may become unstable; in addition, they had to consider legal power outage or emergency response. In particular, when disasters happen urgent response is required for restoration whether it is weekend or night and day. To replace the server, FORUM8 products and services, which allow authentication in an environment connected to the Internet, attracted their attention. As a part of risk management, they also took measures for emergency by adopting "UC-1 Engineer's Suite" mentioned above last year.

CIM Applied to 57 Items over a Wide Variety of Construction, with an Outstanding Unique Approach


It was about 2009 when BIM (Building Information Modeling) began to spread at an increased tempo in the architectural area in Japan. On the other hand, it was April 2012, three years after the architectural area, that the civil engineering area started to aim the similar approach, when Mr. Naoyoshi Sato, then-Vice minister of Ministry of Land, Infrastructure, Transport and Tourism (MLIT), expounded "Recommending CIM". For this, the Company paid attention to possibilities of the similar approach in the civil engineering area based on the success cases of BIM. Efforts to aim at utilizing 3D models in the construction sites started to move in February 2012, says Mr. Sugiura.

"Thinking mainly how to apply (the concept of BIM to civil engineering and use 3D models) in our construction sites, CIM spread in a very short time (across diverse sites)". The Company has applied CIM to 57 items ranging over almost all kinds of construction including tunnels, bridges, shield, dams, reclamation, railroads, underground building frames, and power generation. As implementation of CIM promoted by MLIT so far has been focused on construction consulting while the construction phase is beginning to attract attention finally this fiscal year, the Company boasts of 's records of "perhaps No.1 in the industry (by Mr. Sugiura)" for CIM application.

Nevertheless, simply creating 3D data and representing them three-dimensionally is not the goal; it is important to reuse them. To realize this, it was necessary to make clear the purpose of using them. On the other hand, targets of CIM application involved various projects, from small to large scale ones. There seemed to be some constraints for all the functions expected in CIM to aim at. Consequently, the Company set three policies towards utilization of CIM: 1) quicker decision making, 2) improving construction efficiency, and 3) building an initial model of maintenance.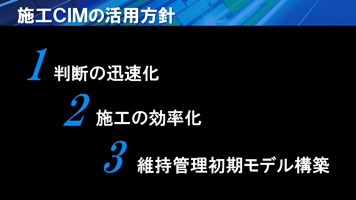 Three policies towards utilization of CIM


Among these, having a sense of purpose of "quicker decision-making" will spontaneously lead to "improving construction efficiency". Therefore, activities to cover these policies preceded the other. For example, more actions are made to aim at improved quality and shorter period of construction by visualization of measurement information and confirmation of structure connection, as well as at construction management using the latest technologies. Along with this, the Company originally focused on "building an initial model of maintenance". In other words, it was a unique attempt to incorporate diverse attribute information, such as measurement data obtained in the construction process or the situation of work-quality-completed, into the 3D model.

Being in the second year of handling CIM, each construction site has steadily been accumulating construction information. The private project of power plant delivered in the autumn in 2014 and the tunnel project for MLIT scheduled to be completed in March 2015 are positioned as the first cases respectively to meet the above three elements.

Lastly taking in a point cloud model of work-quality-completed that reflects the structure's final shape, a 3D model is completed filled with all the construction information required for the maintenance phase and quality / quantity data. Delivering the model will allow the client to utilize it as the basic information for later inspection or maintenance, according to his idea.


Adoption of UC-win/Road and its Possibilities for CIM


As part of supporting CIM, the Company also adopted "UC-win/Road" about a year ago.

While handling a large number of restoration projects of the Tohoku region, they created 3D models and used them for construction management etc. In exploring how to expand its usages, they hit upon an idea of a tool that allows the residents and project-concerned people not only to see what the newly developed town and roads are like from a specific point of view, but also to perform driving simulation while stopping, looking the other way, or turning around. In fact, the other software they had already kept was also capable of 3D representation. However, it was technically hard to use it and took time in creating data. Moreover, there were some constraints in connecting with devices such as a head mount display, he says.

The first case of using UC-win/ Road was Yoshihama-Kamaishi road construction (MLIT Tohoku Regional Bureau). An already created 3D model was modified on UC-win/Road. Loaded into the driving simulator, it was presented for the first time at the ceremony performed to pray for safety in the last September.
They got the impression that the resident liked it. It also attracted attention through appearance on TV etc.


VR data for Yoshihama-Kamaishi road construction

Almost at the same time, it was also applied to railroad- and highway junction projects. For the former, the main purpose of its use was spatial confirmation of how old and new railways cross each other in examining construction with subcontractors, such as about top-bottom and left-right connections. For the latter, the main purpose was set on modeling the entire ramp and confirming how it looks to drivers.


Simulation for examining railroad construction: confirming how old and new railways cross each other, such as about top-bottom and left-right connections

Previously, creating such explanatory materials became its own end and were developed no more. Currently, when there is a 3D model, it is possible to make derivation from it to conduct a variety of simulation, sharing the final completed image among the concerned parties. Furthermore, visually better representation was realized in a short period of time. Thus Mr. Sugiura is willing to positively continue using UC-win/Road in consideration of the necessity also in other sites of CIM application in progress now. On the other hand, he also expects that in the future UC-win/Road will take in point cloud data that cover wider area, incorporate them with models of structures, terrains, and strata etc., and be capable of high-speed process.

"Using UC-win/Road, I've found that there are diverse ways of using it other than visualization."

Speaking of ICT in construction, it has an aspect of somewhat like research and development; other companies tend to focus on collecting the research cases. On the contrary, the Company use it first on site at any rate to see its effect. You can quit those with little effect, and verify those with potential high effect thoroughly, as he states about the characteristics of his approach. Their Activities towards utilization of 3D-based data clearly show this.

"The first step forward is most important. Then the next direction will show up. Though rough-planed yet, this approach has allowed us to find out many different possibilities."




VR modeling of the entire ramp at an expressway junction to simulate the view when driving