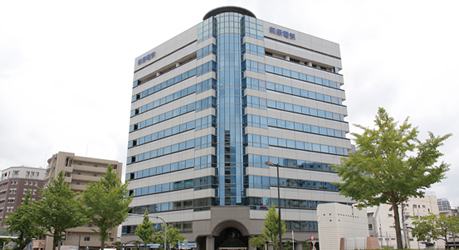 Headquarters Annex, Hagiwara Electric Co., Ltd.
"(We are) exploring what kind of things we can do to give rise to new business using technology of Hagiwara Electric, and carrying out many different activities using leading-edge technologies of not only ours but also other companies towards the starting up of new business as a "technology trading company."

From this point of view, they currently focus on advanced technologies that are not established yet but likely to grow up in the future, including automatic driving or wearable devices such as Smart glasses. They are aiming to commercialize this, says Mr. Takaharu Sedo, Assistant Manager, Engineering Strategy Office, Technology Center, Hagiwara Electric Co., Ltd. about the role of the section he belongs to.

Our user to feature in this issue is Hagiwara Electric Co., Ltd., which develops and provides a variety of solutions using a wide range of information and communication technologies (ICT) including electronic devices. Special focus is put on "Engineering Strategy Office, Technology Center" in charge of building new technological strategies and planning and development of new business based on them.

About 3 years ago when the Company was working on evaluation of dangerous scenes for development of the advanced driving support system (ADAS), they came across an idea of applying virtual reality (VR) to the case on which there are some restrictions in using an actual car. This led to introduction of "UC-win/Road", a three-dimensional (3D) real-time VR product of FORUM8.Realizing a possibility that 3D VR could be utilized, they have been effectively using UC-win/Road in developing diverse technologies related to automobiles, evaluation towards commercialization, and proposals etc.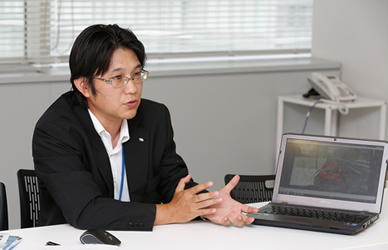 Mr. Takaharu Sedo, Assistant Manager,
Engineering Strategy Office, Technology Center
Providing a Variety of Solutions by Making Most of Its Advantages as a "Technology Trading Company"
Hagiwara Electric Co., Ltd. was founded in 1948 as "Hagiwara Denki Kogyo" for manufacturing and repairing radio sets. Along with its business expansion it became a joint-stock company, and changed its name to the current one in 1965.Today having its Headquarters and Headquarters Annex located in Higashi-ku, Nagoya city, it has domestic offices including Miyoshi Office, Nisshin Office, Tokyo Branch, Toyota Logistic Center, and Kyushu Substation. Its foreign subsidiaries are located in Singapore, India, USA, China, Korea, Germany, and Thailand. Nearly 500 employees are positioned over them.

The Company is organized with three business operations as its core: Electron Device, IT Solution, and Development and Production. Electron Device Business Unit and IT Solution Business Unit develop products for clients and solve problems at production sites, while Development and Production Unit develop and manufacture electronic and information products that are needed there. Beyond these domains, Technology Center gathers (about 100) engineers from three business units. Based on the technologies, information, and experiences accumulated through individual business domains, the Center is organized to plan technological strategy towards the future, develop elemental technologies, and plan and create new business.

Calling itself a "technology trading company", the Company has advantages in electronic devices, module/unit, information platform and elemental technologies such as image technologies. It provides diverse solutions through application technology development, prototyping, and ODM development etc. in the fields like work support systems, automatic vehicle-control systems, sensor network systems, next-generation HMI, security systems, logistics and FA systems.
Advanced Technologies and Approaches to Creating Business with Utilization of Them
"The technologies I am focusing on now is IoT (Internet of Things) and M2M (Machine to Machine).I think that various products will get connected to the Internet (more and more from now on). Communication between machines will probably allow many different data and information to be absorbed automatically in the future world."

Responding to such tendencies, the Company has explored, for example, what they can do by M2M in the automobile industry, which is their main client. As part of this, preparations for realizing the "Vehicle management system" is in progress. This system obtains big data in real time by transmitting diverse vehicle information by way of the OBD II terminal. Mr. Sedo explains that they aim at leading to new business by utilizing this.

On the other hand, one of the main tasks he is currently dealing with is development of a telematics system for confirming information on managed vehicles in real time. For LEV (Light Electric Vehicles), which will probably be widespread in the aging society in the future, they are developing a vehicle management system capable of monitoring where the target vehicle is traveling, and whether or not there is anything unusual etc.

Another one is commercialization of "Smartglasses", a kind of wearable device which unite a camera and a display with glasses. They paid attention to their characteristics that allow the user to conduct various operations hands-free, and are willing to demonstrate the effects in work support such as in assembly in the factory, maintenance at the remote place, and in logistics etc.
Introducing UC-win/Road for Developing Simulators for ADAS Technology
Recently ADAS (Advanced Driving Assistant System) has been becoming widespread rapidly. This is a system that supports safe driving through the automatic brake, support for keeping one's lane, and warning to drivers etc. based on the information obtained by the radar, camera, or sensor equipped in the vehicle. About three years ago, the Company was working for development of ADAS technologies, trying to obtain sample data for image recognition about the situation of "automatically applying brakes in danger of hitting the car ahead".

"We had already obtained the data on the points of recognizing cars coming close or going away had (using actual cars). However, we wanted to step forward and obtain (data for image recognition of) real dangerous scenes."

This requires highly accurate data, while it is very dangerous and impossible to redo. Thus they wondered if they could represent different scenes with VR for evaluation. Comparing tools provided by some companies, they came to adopt "UC-win/Road", in consideration of its advantages in a comprehensive manner. For example, it allows the user to create VR easily with simple operation with a reasonable price, and offers support to details in Japan, as Mr. Sedo remembers.

"FORUM8 also cooperated with us in many ways at that time, saying that our intention of using it as an image tool for evaluating collision prevention or as a camera for simulation (of experiences) was interesting, which was totally different from the framework of the driving simulator treated so far."

The VR simulator, developed using UC-win/Road like this, has been utilized for evaluating image recognition of dangerous scenes and obtaining simulated CAN (Controller Area Network) information etc. in the field of in-vehicle ADAS. He says that introduction of VR simulators also brought about other advantages like decrease in misdetection owing to the improvement in evaluation accuracy.
Utilization of UC-win/Road in Diverse Ways with its Characteristics
Since then, in planning and prototyping products, the Company has been using UC-win/Road positively for obtaining data that cannot be obtained without actually driving a car.

For instance, in the above-mentioned development of the vehicle management system, it is required to grasp the vehicle's position, speed and warning situations etc. in real time as a system. To handle this, they conduct evaluation and verification in the environment closer to the information from the actual car by producing the GPS or CAN information on the vehicle in simulation.

In addition, they assume practical operation of the unattended taxi in studying automatic driving. They made an animation work (promotion video) showing the image of the system which the user operates while making reservation with a Smartphone through the cloud server. Along with representation of use scenes, they also made pilot prior evaluation of the information they want to obtain from the car side.

"We were able to demonstrate that prior evaluation can be conducted in such a way even though actual cars are not used (for something still in the conceptual stage), through events etc."

However, since it was applied to the unattended taxi that was ahead of times, actual situation of the unattached taxi itself was apparently hard to be understood. Considering this, they then developed the "vehicle management system" that allows the user to grasp and manage the position, speed, and conditions in real time for a wide range of automatic-operated cars and trucks of freight companies etc. based on the original idea. This has been made into animation with UC-win/Road to use for prior evaluation, as Mr. Sedo says.

Further applying them, they devised its usage to transmit the demonstration information of the vehicle management system to the Smartglasses to allow the driver to watch necessary information while keeping on looking ahead without taking a look at the car navigation system. It also supports prior evaluation by linking this with the VR created with UC-win/Road. 
"Basically we are using this for presenting the Company's activities in exhibitions and so on, but it is also an advantage of UC-win/Road in that we can bring a laptop computer in visiting a client who is interested in us to explain in an easy-to-understand way.

Evolution Around Automobiles and Prior Evaluation
It is expected that IoT will be widespread, connecting automobiles to the Internet and promoting collection of big data on automobiles. Mr. Sedo believes that inclination towards the world where those data can be accessed from outside will increase more.

When such a situation occurs, it is difficult to conduct prior evaluation by using actual cars as to what kind of data can be obtained .Consequently, he thinks that offering diverse vehicle information that UC-win/Road has as the external interface will allow them to use more information than what can be seen now.

"A variety of possibilities of UC-win/Road can be expected by using it as a simulated vehicle model before it is made into an actual product, beyond the framework of a driving simulator."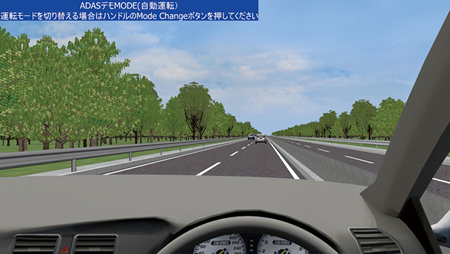 "VR Simulator for Evaluating Dangerous Scenes in the Field of In-vehicle ADAS" 
(Award-winning work at the 12th 3D VR Simulation Contest on Cloud)