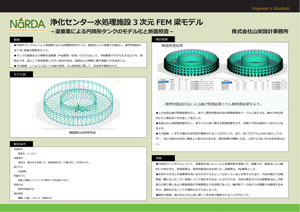 Program:
Engineer's Studio®
An L2 seismic test is executed for a cylinder shaped tank. After calculating the seismic force by the seismic coefficient method, the RC section is checked by the limit state design method.
The slab and side wall of the tank are modeled with beam elements (Mφ), and concentrated ground springs are set on them.
The test proves the safety of ultimate bending and ultimate shear against the L2 earthquake.