Preface
As one of the applications of 3D information in surveying and construction field, 3D modeling of point cloud data, which is surveyed on site by using high accuracy GPS-based mobile measuring device, is drawing attention. In a FORUM8-conducted sample project, we used the data from Umi-hotaru (sea firefly) parking area along the Tokyo Bay Aqua Line Expressway measured using Mitsubishi Mobile Mapping System (MMS). In this page, we are going to update you with the latest information on Point Cloud Data Plug-in option which can import point cloud data into UC-win/Road.




Sample project
Umi-hotaru is an artificial island along the Tokyo Bay Aqua Line Expressway. Its complex structure, consisting of flyover ramps, a tunnel, a bridge and a parking space, makes this structure a perfect example to illustrate the benefits and setbacks. In this project, a VR model of the structure was successfully produced after minor adjustments using a conventional modeling tool.

Data file (In case of Umihotaru, an excel file which has 17,000,000 coordinates)
File format: X-coordinate, Y-coordinate, Z-coordinate (Height), R value, G value, B value


adjustment with VR Mesh Reverse




Benefits and setbacks of using "point cloud" data


---

Advantage


Accurately measure objects and roads in full 3D
Makes it easier to understand the project
The perfect way to validate data.
Use in conjunction with CAD and Google Earth Measurement

Disadvantage


More time consming
Extra training may be necessary
PC with larger capacity may be required

Point Cloud Data Plug-in option
| | | |
| --- | --- | --- |
| As well as the import of point cloud data, Point Cloud Data Plug-in option has many more features. This option enables you to import point cloud data obtained using surveying tools, such as laser scanner, into the 3D VR software and display the imported data at a specified position. To convert the terrain data, TIN data is generated from the laser-scanned point cloud data and then terrain patch function can be used to model the terrain. Repositioning of the point cloud data is possible by moving the point clouds sideways or rotating them. For exporting data, you can export point cloud data to Land XML data, so that the generated data can be used on other systems. | | Point Cloud Data Plug-in window |
| | | |
| --- | --- | --- |
| | | |
| Screen shot of imported point cloud data | | generation of terrain TIN data, terrain modeling |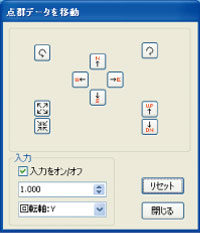 position adjustment of point cloud data
| | | |
| --- | --- | --- |
| N,S,E,W buttons | : | to move in the direction of North, South, East or West |
| UP,DN buttons | : | to move up or down |
| Rotation button | : | to rotate around the rotation axis |

The application examples of "point-cloud" data
Use as reference points when creating roads in UC-win/Road
It can be used in combination with Mobile Mapping System as a processing tool or a VR modeling tool


Use for reverse analysis in VR model of UC-win/Road
"Point-cloud" data can be used for validation of VR model. For example, it can be used to ensure accuracy when creating VR data, and also for aging and deterioration diagnosis and differential analysis.

Mitsubishi Mobile Mapping System (MMS)
MMS is a High Precision Mobile GPS Measuring Device. Locate the position of objects using laser scanner and camera to create a highly accurate 3D map of an urban area.
MMS is equipped with three GPS aerials, an IMU, cameras and laser scanners on the roof of the vehicle, and three DPS placed in triangle captures the vehicle movement very accurately.
With 100usec resolution, the accuracy of the data collection does not deteriorate even when travelling at a higher speed. Up to five cameras and five laser scanners can be connected to the system.