About 30 students of the Traffic Science college, 300 students from other colleges, and some from outside the university get training each year.

"Many of the graduates of the Central Police University become a leader of each police organization and sometimes lead 40 team members. Leaders are training their own driving skills here. Today, a dozen police officers who graduated from police academy are coming for the training", explains Mr. Pi-Chang Chuang.

Traffic accident accounts for a large proportion of the cause of death of Taiwan police officers. To improve driving skills is important to protect the safety of police officers.

This driving simulator can reproduce the motion of real vehicle precisely according to the physical law. When we hear that Taiwan police elites are using the driving simulator, many people may imagine they are training a driving skill to get in front of the criminal's car and stop it or the 180-degree turn required for car chase. However, they are using the driving simulators for really orthodox purpose of studying the safety driving in Taiwan city, mountain, and highway.

Young police officers actively working in Taiwan gathered at the training this day. First, an instructor Mr. Jia-Fu Chen explained the driving simulator. Young police officers in active service looked interested in it.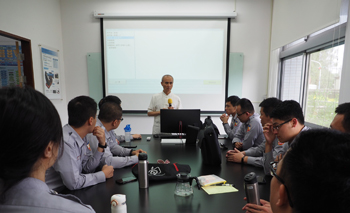 Mr. Jia-Fu Chen instructor giving a lecture before the training
of driving simulator
Next, the instructor himself became "an example" and drove in VR reproducing Taiwan city. He drove streets in Taiwan city first. To drive safely is not easy. Motorcycles have to travel along the edge of road but often change lanes and come in front of the vehicle in operation. Vehicles suddenly cuts across at an intersection with no signal, and the door of a parked car is suddenly opened. These traffic situations familiar with those who have traveled on a taxi in Taiwan are reproduced on UC-win/Road with reality.
The lack of concentration under these traffic conditions causes hazardous situations. The instructor caused an accident on purpose to explain how difficult to drive safely is.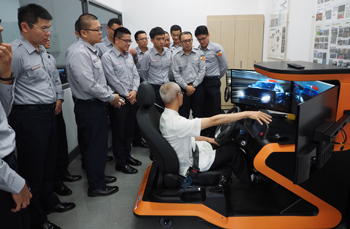 The instructor showed "an example" with the driving simulator.

After that, young police officers drove the simulator one by one. Some of them are engaged in the crackdown on highways and showed an amazing steering control. Also, the only female police officer in the group actively tried driving.

"Courses created with UC-win/Road include main roads in Taiwan such as city road, residential area, skyscraper, highway, mountain road, and tunnel", said Mr. Cheng.

"The simulator has 25 scenarios reflecting the traffic situations in Taiwan. For example, the weather turns rainy when the car comes out of tunnel, an elderly coming out of behind cars and going across a crosswalk slowly, and vehicles don't obey the stop line in intersections without traffic lights."

It is said that 70 to 80 % of traffic accidents in Taiwan is caused by motorcycle. That's why motorcycles often appear in the scenarios.

Drivers can train the safe driving skill by handling these scenarios while driving towards the goal. There would happen no car chase but it can be said nobody knows what would happen on streets in Taiwan. Since the driving simulator let drivers experience many unusual scenes in a short time, they can acquire an ability to predict "what will happen next" under various circumstances while driving.

When drivers finish driving the course, the simulator displays the comprehensive driving skill evaluation and their driving skills in details such as the correct lane keeping, proper distance to the vehicle in front, how to use of steering, gas pedal, and brake, and avoidance of collision, etc.

Drivers can also get feedback by comparing their own driving course to the driving course taken by the model driver.