Services of ENGINEERING Operations Division (all items in the figure can be supported)
"We have more than 300 clients. They need different design contents, and the IT (Information Technology) resources (used for the services) are similar but subtly different (from service to service)."

Our user to introduce in this issue is Sanyu Civil Engineering Corporation (SCEC) that provides services of design, construction consulting, and temporary staffing. Its "ENGINEERING Operations Division" provides engineering services such as analysis, design, three-dimensional (3D) CAD/CG creation for a wide range of fields related with maritime and port, civil engineering and bridges, architecture, nuclear plants, and ships etc. We focus on two departments in the division:
1) "Structural Design Dept." in charge of analysis and design of especially advanced and technical structures across different areas.
2) "Maritime and Civil Engineering Design Dept." in charge of design of structures related with maritime and port.

Today, a large number of clients that range from manufacturers to general contractors, and engineering companies make advanced and diversified demands. To respond to them, not supposing use of a particular software program "but (positively) adopting various programs needed by special departments (in charge of actual services), we provide good services by taking advantages of those programs," says Mr. Takashi Muramatsu, Corporate Officer and Director of ENGINEERING Operations Division, mentioning the stance about utilization of ICT (Information Communication Technology) within the company. With this situation, he says that the number of software programs SCEC owns may be much larger than the companies of the similar scale in the same industry.

Reflecting this policy, Structural Design Dept. adopted "FEMAS", the first Japanese-made CAE package software about 30 years ago. In the mean time, the Dept. shifted to use of "FEMLEEG", a finite element analysis system and the successor of FEMAS, and accumulated a plentiful design records using them. (FORUM8 merged its 100% fund subsidiary, Hokuto System Co., Ltd. on May 1 this year, succeeding its all rights and duties including all of its commercial products along with FEMLEEG.)

On the other hand, Maritime and Civil Engineering Design Dept. used "2D (two-dimensional) frame analysis software" of FORUM8 and has been using "UC-win/FRAME(3D)", a frame analysis program for 3D (three-dimensional) structures for long time. This spring, the Dept. adopted "Engineer's Studio®", a dynamic nonlinear analysis program for 3D laminate plate/cable, for study towards its use on a full scale.

Accumulated Original Knowhow in Diverse Engineering Services
Sanyu Civil Engineering Corporation originates in Sanyusha Limited Company founded in 1958. In 1962, it was developed into Sanyu Kogyo Co., Ltd. (Chuo city, Tokyo). Through capital increases and business affairs expansion, it was renamed SanyuTechnos Co., Ltd in 1989. In 2002, Sanyu Civil Engineering Corporation started (in Taito city, Tokyo) by being divided from it. In 2013, SanyuTechnos Philippines Inc. was founded in Philippines by joint investment of the SanyuTechnos Group.

Services of Sanyu Civil Engineering Corporation cover a wide range of fields such as 1) maritime and port-related structures such as shore protection, piers, and oil-drilling facilities, 2) civil engineering and bridge structures, 3) plant facilities and various architectures, 4) nuclear plants, 5) ships, and 6) vehicles. SCEC provides many different engineering services related with them such as analysis, design, and 3D modeling. Currently, ENGINEERING Operations Division has departments of Maritime and Civil Engineering Design, Architectural Design, Civil Engineering Design, Structural Design, Nuclear Plant Design, Business Service, Marketing and Planning, and General Affairs and Human Resources. About 170 employees are positioned in these departments.

In recent years, services targeted for energy-related facilities such as FPSO (Floating Production, Storage and Offloading system) and wind power generation. Especially in case of design of FPSO etc., multiple technical departments may use different software programs to perform a certain project, or clients may designate a specific software program. This is likely to cause constraints in seamless data linking throughout the entire project. Thus SCEC has been accumulating its original knowhow to link data in order to clear these problems, along with its corporate culture to deal with new software in a flexible manner.

In addition, as SCEC makes positive efforts to ICT, it paid attention to iPAD from early on. It supplied the tablet to every manager and officer of the higher rank (about 30 persons in total) to promote its use for information sharing at conferences via cloud or as a marketing tool.
Mr. Takashi Muramatsu,
Corporate Officer and
Director of ENGINEERING
Operations Division
Mr. Hideki Maeda,
Director of
Structural Design Dept.
Mr. Takamasa Hayano,
Director of Maritime and
Civil Engineering
Design Dept.



Using FEMLEEG for Ship-and-vehicle-related Services etc. Focusing on its Features

In providing design as a service, needs for design has been sophisticated in recent years. In addition to ships that originally require detailed structural analysis, there is an increase in the cases that cannot be designed without special structural analysis also in other fields. Consequently, SCEC established "Structural Design Dept." as an organization specializing in such services. Using finite element analysis systems including FEMLEEG, the department deals with a variety of simulations.

"The point is that we are taking part in manufacturing using the finite element method." Mr. Hideki Maeda, Director of Structural Design Dept., ENGINEERING operations division expresses their role. The main work of the Dept. is structural analysis of ships and FPSO etc.

About 30 years ago when they were involved in ship-related design, the client requested them to perform strength calculation. It was FEMAS, forerunner of FEMLEEG, which the client was using when they started to work on it. So SCEC purchased FEMAS, and then gradually moved onto FEMLEEG.

In the mean time, in designing various structures, they came to properly adapt uses of different software programs they own according to their features. SCEC focused on FEMLEEG's functions of modeling (preprocessor) or result processing (post processor) by the finite element method, and used it by linking it with the in-house-developed program etc. For instance, in designing ships or FPSO, there may be the case "building up mesh one by one meticulously", or in nuclear plant design it may be very important to have precise size. For modeling them, FEMLEEG is mainly used, according to Mr. Maeda.

Through use of FEMLEEG over a long period of time, he and others highly evaluate its usability such as of the menu and help owing to the domestic software, its complete support system such as rapid response, and gradual improvement of functions etc. In the future he is also willing to continuously use it mainly in such cases that require focus on limited parts on the structure to study by dividing it into detailed meshes.




Higher Weight of UC-win/FRAME(3D) in Maritime and Civil Engineering
Potential of Engineer's Studio® Examined for the Future






"It is likely to be considered that concrete is a main thing in civil engineering, but we are also strong in iron." It is Maritime and Civil Engineering Design Dept. that designs diverse maritime structures, harbor structures and floating structures, using FORUM8 dynamic nonlinear analysis products as main tools. Its name is certainly unique, but Mr. Takamasa Hayano, Director of Maritime and Civil Engineering Design Dept., ENGINEERING Operations Division mentions its advantage of rich experiences in designing concrete and iron respectively so far. As part of this, he says that the Company's main products include caisson of composite structure of concrete and iron, or jacket-type pier structures, use of which has been spreading in recent years not only as a harbor facility or an ocean energy facility but also as airport infrastructure.

More than 20 years ago when SCEC adopted our 2D frame analysis software for the first time, SCEC had already started 3D analysis. However, he had an impression that the software of FORUM8 was "very easy to use" partly because it was a Japanese-made product.

Later, they moved onto UC-win/FRAME(3D) since offers increased from their clients that they "wanted to use this software". At the beginning some problems were pointed out because of inexperience, but making a manual based on the work process of the Company allowed them to be gradually solved. In recent years, frame analysis for 3D structures with UC-win/FRAME(3D) accounts for about 40% of the analysis jobs within the department.

" In spite of our struggle to master an unfamiliar program at the beginning, it is found very user-friendly now, and used for elementary education of the employees. It has taken root (within the Company) as a frame analysis software program.

Recently, since several clients requested use of Engineer's Studio®, it was introduced this spring ahead of practical use. At present it is under study to investigate what they can do with it.



Keys to Utilizing ICT in the Future and Expectation

As to utilization of ICT, Mr. Hayano, who deals with a great deal of important information of the nation about civil engineering, mentions a sense of crisis regarding information leakage that accompanies progress of ICT. Even if one ensures that the security system is all right, as far as human beings interfere with it, there cannot be absolute safety. While admonishing himself, he insists that we should always be aware of this in today's society.

Mr. Maeda also paid attention to the role of "users' voices" in developing software. Reflecting them in the software allows it to develop itself. That is, users should be aware of forming a cooperative team with each other and make positive efforts to express their opinions. This will allow individual needs to be accumulated and be of benefit to the whole users, as he explains.

Mr. Hayano expresses his view mentioning key words that attract him. One of them is the trend of harbor facilities "being increased in water depth", and the other is "earthquake resisting". As to the former, it will get easier to make a proposal with 3D analysis for structural design that requires high precision under strict conditions. As to the latter, improvement of pre/post process interconnected with Finite element analysis program of Liquefaction Process / Response of Soil-structure systems during Earthquakes ("FLIP") etc. may allow greater potential of using software.

In this sense, FORUM8 is "the company that they expect most," according to Mr. Muramatsu, considering that FORUM8 provides purely Japanese-made software products that are user-friendly with menu systems written in Japanese, and is likely to accept their requests as they are, and meet the demand of having one software program support various needs),. This suggests that he also expects Engineer's Studio® to advance further by taking in their demands to allow its future utilization.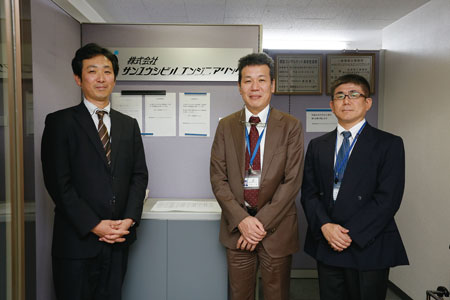 (Reported by Takashi Ikeno)