Introduction

Recently, we have received the order of customization development based on the diversification of construction method such as new method, and the transition to performance checking design method for UC-1 series or other design calculation software.

We showed some case studies of customized development service to help improve your design work. Our customizing development program uses standard input/output library of UC-1 series products. The standard library supports electronic delivery standard and import/export function for each file. The softwares which has the drawing generation function support the latest CAD drawing standard and SXF. Additionally, as we develop based on UC-1 series program such as FRAME, Section, Superstructure/Substructure work, and Foundation, the customization development can be performed with a significant advantage of using accumulated algorithm and software stability. Consequently, the completed program will receive the advantage of product quality and cost performance. We have a good track record of the products for other languages and other country's design standard.


Examples of customization development program
Available for purchase
(Package software)

Easy slab bridge and Easy rahmen bridge design
PC well type pier design calculation
Distribution basin earthquake resistant design calculation
Micro pile(Foundation design calculation, Pier foundation design)
Bridge check support system
Pipe network design

Unavailable for purchase

PRC box culvert design calculation
Rock fall prevention fence pier foundation
Caisson type pile foundation -specially-shaped version
Design calculation of rotating pier method
Design calculation of connecting steel-pipe-sheet pile foundation
Road traffic planning system





Maintenance support of UC-1 series is provided for the developed software, it will be able to be upgraded in future. Needless to say, the existence of design software makes the important role to settle the new method or materials. The customized program can be sold via our sales network with sales agreement contract. Forum8 provides efficient customizing development service to meet the requirements in a variety of design situations.





Advantage of using customization development service of Forum8
(1)
Forum8 develops and markets the civil engineering design software, 3D analysis software, and 3D VR simulation software as an independent software house. Our registered users currently reach more than 12,000. Therefore, the reliable and high quality library groups and a great deal of technical know-how can be used for the parts of input/output and calculation for the developed program. With advanced analysis and 3D interface, the developed program can be expanded in future.

Example of using UC-1 library in customization development program
(2)
The support is provided same as our products; free of cost for the 1st year, purchased the support contract separately after that.
(3)
With our products for concrete bridge or concrete construction (Superstructure work:UC-BRIDGE, PC pier///Substructure work:Abutment, Pier///Geotechnical work:BOX culvert design, Retaining wall design), the high compatibility of interface improves comfort and efficiency of users.
(4)
We are certain that we can provide the developed software as a strategic tool to show the advanced information technology , and to position oneself apart from the rest.

Examples of customization development service

Easy slab bridge and Easy rahmen bridge design program

The style of this bridge is evaluated with the adjustability to the medium-sized bridges, and it has been attracted attention for its structural performance and economic efficiency. We developed the design program in this style by using the resources of our UC-1 series products.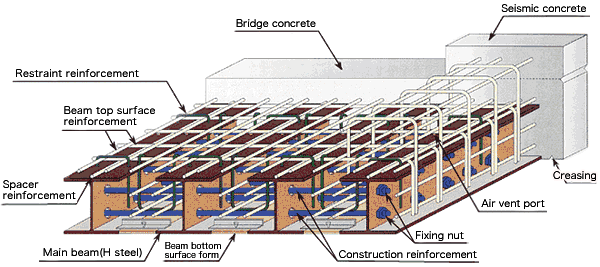 Structural drawing of Easy slab
(1)Main function
Interactive input style with interface of UC-1 products
Analysis parts:
Easy slab:Grid analysis calculation
Easy rahmen bridge:FRAME analysis, earth retaining elasto-plastic analysis
Result display:for detailed and overview design
Adjunctive design:Shoe design, displacement limit design, overview of quantity and costs
(2)Earth retaining elasto-plastic analysis
Structural analysis of rahmen slab bridge is performed with elastic analysis which considers the spring characteristics of geological condition. Structure model serves rahmen model with the monolithic structure of superstructure and substructure, and it is almost equivalent analysis model as the monolistic analysis of both walls in our product, "Temporary sheathing work design". Therefore, we customized the parts of earth retaining elastic analysis.
| | | |
| --- | --- | --- |
| | | |
| Data creation of rahmen slab bridge | | Result of monolithic elastic analysis of superstructure and substructure |
---

PC well type pier design calculation

This program allows to check PC well type pier and foundation with allowable stress design method and seismic dynamic horizontal bearing capacity method. Functions of bridge substructure and foundation (pier design, foundation design calculation(caisson foundation)) made the development schedule shorten. We tried to achieve efficient design flow for the customers.


Main screen
Check screen of PC steel rod arrangement
Adjunctive design
(M-É" calculation)
---

Distribution basin earthquake resistant design calculation

This program allows to perform design calculation of distribution basin earthquake resistant for one or two basin structure. It supports seismic coefficient method and seismic deformation method so that level 1 and 2 of earthquake can be considered. Standout function is that the bending rigidity reduction considered M-É" of member was processed internally in the calculation of level 2. We used our technical resources including bony framework analysis, RC section calculation(allowance, limit ), analysis considered nonlinearity of members.


| | | |
| --- | --- | --- |
| | | |
| Main window(with post) | | Geological later check |
---

Micropile

The customer originally ordered the customized micropile for foundation seismic strengthening, then we proposed to integrate micropile with our products(foundation design calculation, pier foundation design), and they purchased as a package product. We covered a variety of micropile method by supporting three methods (ST micropile method, high strength micropile method, torsion micropile method).


| | | |
| --- | --- | --- |
| | | |
| Example of high strength micropile | | Input screen of pier head connection point |
---

Pipe network design

This program is the analysis program of water and sewerage distribution system. It allows to create the pipe network data by GUI operation, and generate the drawings. We used the libraries accumulated by creating the model in our products "Slope stability analysis" and geotechnical analysis series "GeoFEAS2D" and "UWLC" for GUI operation. Additionally, our CAD library was used for drawings to achieve the efficient development.


| | | |
| --- | --- | --- |
| | | |
| Creation of pipe network data by GUI operation | | Creation of pipe network drawing |
---

Road traffic planning system

This program was developed by representing the traffic network on the interface recognized visually so that you can create, modify, edit the data efficiently. It allows the creation and editing of data while checking the relevant traffic by importing and analyzing the numerical information of traffic network.

-Function

File(Import and export of link/node file)
Edit and search function : Edit(Add, Divide, Merge) Search(for Node, Link)
Display function(Information is displayed on drawing. Information table can be displayed, scaled, and moved.)
Setting(Display setting of color or font)
---

UC-win/Road Customized System

This service provides the customized system based on UC-win/Road function including driving simulator, VR simulator, ITS simulator, walking simulator, and GIS system. Examples of our customized system are shown as below.


VR simulator
(Tokai-Kanjo expressway VR simulator : 2002)
Driving simulator
(Matsuyama rivers and national highway bureau : 2005)
3D GIS disaster simulation system
(Road management technology center :2004-2005)
---

System development in research project

This example shows the system development in Ę3D operator support viewer£ research project. Completed image of construction robot and the information by external sensor are compared. This system is assumed based on "UC-win/Road" which can be interacted with operator.






---

Proposal of custom development service by using Framework
Forum8 currently adopts Framework to develop two products, "Engineer's Studio(R)" and "Road traffic planning system". Framework is the class library where the object-oriented was further developed, and which calls a variety of codes. This framework provides you a variety of advantage for the customized development. We invite you to take advantage of our service.


Framework allows to finish the customized development in shorter period.
A variety kinds of GUI interface provides the simple operation .
Ex) You can easily change the design condition data by clicking member in image.
3D display makes great improvement of the display and operative performance.
Menu tree display and calculation output can be used as before.
---