"We want to innovate the design work for the land development such as the construction of golf courses or housing areas by CIM(Construction Information Modeling) technology".

Taking golf course improvement as opportunity, the company got an idea to recreate and show how land form in the course will change and how landscapes will be seen by user's eyes from the beginning of designing with 3DVR. The company has been developing "3-dimensional design and development support system" for land reclamation project, which is based on a 3D real-time VR "UC-win / Road", and it has completed after 2 years (2013-2014) development cooperated with FORUM8. Mr. Hirai, the technical manager of the company's technology and production division, expects to take advantage of in various fields of development resultstakes by taking a look back at the progression and implicating evolvement.

Our user to introduce in this issue engages in the civil engineering of a wide range of projects, Takenaka Civil Engineering & Construction Co., Ltd. We focus on the technical department, located in the technology and production division to support the company's instructure, in charge of various correspondence to company-wide technical issues.

The company has almost all lisences of FORUM8 products. Especially, our program "Design Calculation of 3D Steelpipe Sheetpile Foundation" which supports to design Steelpipe Sheetpile Foundation was produced based on the company's contract development services. In that vein, they introduced UC-win Road since the early stage. They put it into practice and equips various functions required in land reclamation projects described above, and it has led to the joint development of new systems that can express the construction results reflecting the differences in design effectively and efficiently in 3D · VR.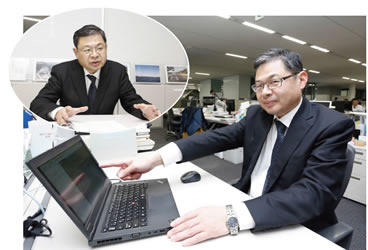 ▲Mr. Taku Hirai, the technical manager of the company's technology and production division

Leading Technical Support for wide civil engineering work project
Takenaka Group consists of companies involved in architecture, construction and civil engineering(8 Construction Business companies and 6 Management Engineering Business companies) and uses Takenaka Corporation, originates from shrines and temples concrete business of the early Edo period, as its hard core. Takenaka Civil Engineering & Construction Co., Ltd. have one of the most history in this construction business in Japan and is widely responsible for the civil engineering business.

We can trace the company's establishment back to "Kyoei-Kai", that formed in 1937. Then succeeding the firm of "Kyoei-Kai", Kaigai Doboku Kogyo Co., Ltd. was founded.
Using participation in the post-war reconstruction business of the country as a springboard, they repeated restructuring and business expansion. They changed their name to their current company name in 1973.

Nowadays in addition to the Tokyo head office and Osaka office, they also have the office in Hokkaido, Tohoku, Kanto, Kokusai, Yokohama, Nagoya, Hiroshima, Shikoku, Kyushu and a number of offices in those areas and in Indonesia(PT. Takenaka Indonesia). Near 900 employees are placed on their base.

The company covers a wide range of business such as civil engineering, building construction, real estate-related, regional, urban and ocean development, and consulting business. Constructed structure through the involved businesses are positioned as "work", and they cover a lot of fields like dams and railways, roads, tunnels and bridges, the environment and water supply and sewerage systems, land reclamation, harbors and rivers, energy.

In those business Mr. Hirai is the manager of Technical Department in Technology and Production division as well as Technology Development Department in Institute of Technology. At the former they enforces preventivation maintenance of trouble on the quality, respond to technical problems, the provision of technical information for the sales support, and intellectual property-related business. At the latter each researcher sets theme which reflects more needs from Takenaka Civil Engineering & Construction and makes an effort to develop technology. On the other hand, the company is also focusing on the development of new technologies and construction methods. Mr. Hirai makes mention of recent years' results as below. 1) Construction method, developed after Tohoku earthquake(2011), with downsized construction machines to achieve the same results as the large machines when building a grid-like ground improvement body in a narrow space, such as residential areas in order to take measures for liquefaction and improve soil. 2) Build-out and application of the system capable of determining accurately the leading end's ground situation on the basis of the various types of measurement information obtained by the tunnel construction.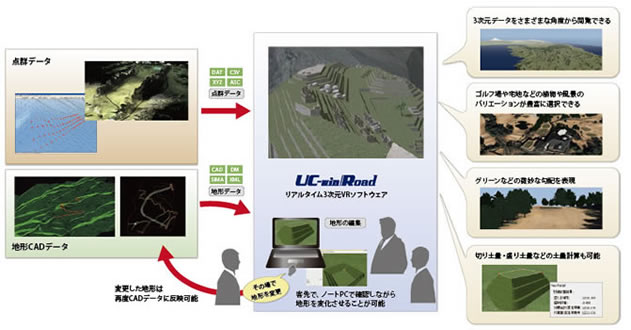 ▲The flow of 3-dimensional design and development support system based on UC-win/Road

Job site needs and CIM correspondence are coupled




In the sense that the company-wide issues related to technology, CIM is one of the biggest business that Mr. Hirai has to tackle now.

sometime during that time at the golf course renovation which was consulted on as part of the land development business, which is the company's line, the needs emerged to get the ordering party to understand and experience in advance "where and how we change so that guests who are on the ground and play would see fairway in actual for example" or "What happens to landforms and landscape after renovation at the design stage".

Until then, for example, the person in charge once went back to the office and drew a plan when the orderer required design modification. It was also inevitable to have difficulty to communicate with each other via e-mail because of the time lag. So it is said that there was an annoyance that they could not talk with their client in real time on the same table.

In addition, even if they designed data with 3D-CAD and took it in the drawing form to their clients, it was not come through that how it would be seen in detail so it was difficult to judge design change. Then they had to make another 3D picture from the data and take it to the clients.

"It is because we cannot communicate smoothly that we starts to think that if we can make something as the tool which is able to make various things as talking with clients directly, using notebook PC or tablet".

That is, instead of corresponding passively to the CIM led by Ministry of Land, Infrastructure, Transport and Tourism, approach to embody CIM idea by themselves driven by needs in job site began to move, Mr. Hirai reviews.

In that time UC-win / Road and 3D CAD had already been introduced to other businesses in the technology and design division in the company's Tokyo head office, so they developed a new system which makes full use of these. This time the concept was drawn that brings technology which leads to automation construction furthermore and beyond from use of in the design phase into view.


Development of "3-dimensional design and development support system"


Receiving this idea of desire to show in the design phase of the

land reclamation

project

how landforms and

landscape

will be

after

renovation

in visual, development of "3-dimensional design and development support system" based on "UC-win / Road" started in fiscal 2013.

It is made an arrangement that users can check the change in the landforms

corresponding to the

change

of the 3D

data

from different

angles while they move the ground freely like a clay on 3D-VR, and that users can reproduce golf course-specific landscape quite realistically.

Also, in addition to display

subtle

gradient like green

superimposed on the

VR

, it corresponds that

presentation

of

while changing the

landform, and CAD by feedback of changed landform. It is able to show the change of the landscape accurately and instantly

d

uring the

meeting

at the

clients.



While the technology

and design

division

in the

Tokyo

head office,

which

had the

golf course

renovation

that

became the

beginning

of the

system development, played a central role in the first year,

the technology

and design

division

in the

Osaka office joined in fiscal 2014, which had similar visualization needs in housing land development. They made efforts for the function enhancement such as responding to

any

shape input

of the gradient

shape,

improvement

of

landform

processing,

golf course

construction

-related

and soil

amount

calculation.



Especially, the surface function has been added in order to put the wireframe when

terrain elevation

is changed. It

selects

an arbitrary

curve

during

terrain

selection and

automatically complement

s a mesh. And it is possible that textures can be changed on

aerial photograph

by height during the changing of

terrain elevation to comprehend it easily in visual, and it is also possible to calculate

soil

amount

calculation

of

elevation

change

places

.

"At first, I imaged (mainly) the operation on a tablet".

A variety of

awareness

in the process of

system

development

are reflected. For example, while from the use scene of

entering

simply

by touching or showing, tablets are considered more practicable, it became apparent that it is easier to use mouse in fact. Mr. Hirai says "I think that we achieved to make it better than we have thought we could".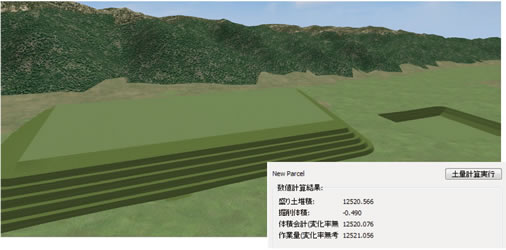 ▲

Generation

of

terrain model

,

soil volume

calculation

function




Utilization system and

future development


As described above, we introduced

UC-win / Road from early on. As the case which puts importance on the landscape such as

land reclamation

projects in

historic buildings increases, the

characteristics

of

UC-win / Road which is realistic 3D-VR and can reproduce movement of human or wind

have been

highly regarded

in-house, says Mr. Hirai.

On the other hand, in the disaster site for example, it is needed to make object under the situation of no drawings situation in certain period, safely so that not to cause

a

secondary

disaster. So it is expected in the future, that we survey from the sky by using

drone

(

unmanned

aircraft)

and send the surveying data to

design

person

of

automatic operating

construction

machinery

and offices

in real time and

reflect in the

construction

work immediately.

He mentions that UC-win/Road will become the

interface

between people and

equipment

in such a

scene.

Through this system development, the company

realized

certain functions

which

the company

aimed.

He remarks that from now on they aim to

spread

the

application examples

of

the same

system

and

to

connect

to

appeal

to the

orderer

the

use

merit.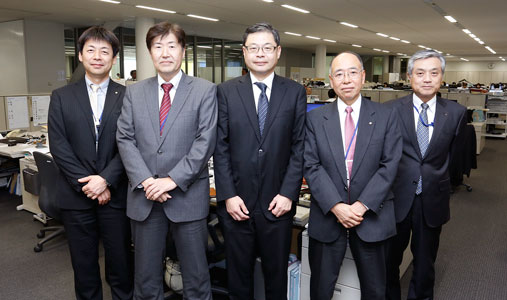 ▲ The member of Technology and Production Division