Program Overview


It allows you to create several driving situations and re-create it under complete control.
Recently Drive Simulator is widely used for vehcle system development or interaction research among drivers, vehicles, road and traffic, on ITS traffic system research.

Easy to create a 3DVR space freely! 3D cockpit, manual driving, multi monitors are installable.

Visual option allows you to set a driving situation which you want.Scenario functions, log analysis functions are provided by customizing.
| | |
| --- | --- |
| | The features of UC-win/Road Drive Simulator |
Driving environment in 3D environment can be freely created via UC-win/Road.
Standard plug-in included
Standard VR data is free and scenario customization is supported.

Various environments can be reproduced via visual option tools.
Reasonable pricing mass OEM production
Supports high simulation needs by customization
UC-win/Road Drive Simulator(3ch + Navi)
Demo Simulator
UC-win/Road Driving Simulator Related Information
Related Products / System

UC-win/Road
---

UC-win/Road Plug-in (UC-win/Road Driving Sim Standard)

---

Driving Simulator Related System
---
Page Top

Program Function and Features



Packaging System
Standard system includes UC-win/Road and Drive Simulator. Navigation monitors and a motion platform can be added as a option.





ECO drive plug-in option is available. This allows you to calculate the fuel consumption and carbon footprint of individual vehicles while driving through a 3DVR model and support the function to edit a graph.
Basic configuration : 3 of 17" LCD monitors / 1 of PC (3 screens supported) Steering controller for game / Seat for game


---
Future Developments of Drive Simulator
1. Delivery address of Drive Simulator
Research and Development --> universities, R&D institutions, groups, associations
Road design --> road companies, construction consultants, construction companies
Exhibition & Publication -> Pavilion for publication, The system for events, Road facilities
Traffic safety --> police, driving schools, various associations or groups, non-life insurance companies
2. VR data, Scenario Creating Service
Provide a VR data and a scenario, which can apply to simulations such as real situation, virtual situation, amusement, game.
3. UC-win/Road Customize SDK
Customizing answer the wide range of customer's needs.
Software Development Kit (SDK) supports your re-distribution of system and free utilization.

4. Expansion with VR-Studio
larger scale and higher quality of 3D spaces will be able to create.
Railway simulation is scheduled to support.

Features of Driving Simulator

Standard : Functions including the driving option standard



I/O
Data
Simulator
↓
UC-win/Road
Accelerator pedal
Brake pedal
Steering wheel
Handbrake
KEY_ACC
KEY_ON
5 assigned buttons
Lighting-up of the brake light
Seat belt
Transmission (Automatic)
Panel light
High / Low beam
Direction indicator
UC-win/Road
↓
Simulator
Engine speed(RPM)
Vehicle speed


Customized : Development according to the users' requests (Ask your contact)



I/O
Data
Simulator
↓
UC-win/Road
Horn
Clutch
Transmission (Manual)
O/D_OFF button
Unsupported for Simulator
Wipers
UC-win/Road
↓
Simulator
Engine temperature
Fuel
Engine warning light
Airbag warning light
Oil-pressure warning light
Battery warning light
Fuel alarms
Rear door warning lights
Door warning lights

Customized Driving Simulator
| | |
| --- | --- |
| | Large sized DS: 6 axes +Yaw - X table, and eight clustering PC |
Providing technical assistance with a manufacturer in foreign country, we are building a large-sized simulator. It can support from 6 axis motion to translation device, 360 degree projection, clustering + controlled PC, real-time processing and so on. It is available to support manual transmission and track as well. You can use 3D VR modelling in UC-win/Road so that feel free to create various running environment freely. Moreover, it assists all simulation process from log measurement and recording to analysis.
| | |
| --- | --- |
| | Customized Driving Simulator with 4 screens |
Allows you to put 4 screens (front, right and left, back) on driving simulator.
Consist of Screen/Projector/Steering wheel/ accelerator and brake pedal /Sheet/PC, not including Vehicle body.

Projection type Drive Simulator with three screens

About Display Performance
Keep frame rate to prevent simulation sick
| | |
| --- | --- |
| | A FPS (frame per second) measuring result by 3ch, 42' monitor |

UC-win/Road Driving Simulator Hardware Specification (UC-win/Road Ver.3.1 or later)
| | |
| --- | --- |
| | Steering Controller (It is available to purchase from FORUM8) |
Logicool Steering controller GT FORCE
http://www.logicool.co.jp/ja-jp/gaming/wheels/
---
Steering Wheel for PlayStation by Logicool is installed.
Steering wheel and Accelerator are available
No need to connect USB devises, conversion connectors and more install drivers
Force Feed-Back function is not supported for UC-win/Road currently.
WING MAN (Logicool Steering Wheel for PC) can be used with a driver for PS
UC-win/Road Ver.4 prototype Recognition Results for Steering wheel (UCwinRoad Ver.3.00.32)
 
Microsoft
Steering wheel
SIDEWINDER
FOREC EFEEDBACK WHEEL
Microsoft
Joystick
SIDEWINDER
FOREC EFEEDBACK
Logicool
Steering wheel
(For WING MAN
PC)
Logicool
Steering wheel
GT FORCE
(For PlayStation2)
Steering wheel
OK
OK
(corresponds to
right and left of joystick)
OK
OK
Accerelator
/Brake
OK
OK
(corresponds to front and back of joystick)
OK *1
OK *1
NG *2
NG *2

*1 Driver installation free
*2 Logicool driver for PC install PC Logitech Gaming Software can be downloaded fromhttp://www.logicool.co.jp/.


| | |
| --- | --- |
| | 3 Screens Hardware for Driving Simulator |
3 screens display hardware
 configuration example 1
configuration example 2
CPU
Intel
Xeon(R) X5460
Intel
Core2Duo E8500
Memory
4GB
2GB
Graphics Card
NVIDIA
Quadro(R) FX4600 786MB
x 2
NVIDIA
GeForce9800GTX 512MB
x 2
Other
Sound output (5.1ch is recommended)
USB 2.0 Port x2 (for Drive Simulator connection)
Rough price
\760,000
\400,000

*Above example is composed of parts which are available on May, 2008.
*Make sure that you check the latest price or specifications from device maker.
Page Top

UC-win/Road Plug-in (UC-win/Road Driving Sim Standard)



Advanced software that enables the creation of large scale 3D spaces for all sorts of projects by PC operations and with which you can give variety of presentations in real-time. It can be used as an ideal software in a flexible development environment and for advanced system development.
International Version Japanese / English / Chinese / Korean


Driving Simulation Plug-in

With UC-win/Road and real car driving simulator with OEM-supplied, the driving simulation is much more realistic. Compared with a conventional driving simulator, a great improvement of the cost-performance is seen. Moreover, the biggest feature is that the user can freely use existing data or create a scenario specific to their needs.



The Eco-Drive plug-in is a new software module that calculates the fuel consumption and carbon footprint of individual vehicles whilst driving through a 3D VR model and graphs the results by means of UC-win/Road's driving log. Alternatively they can "Calculate the carbon footprint". The various parameters within the Eco-Drive evaluation formula are all capable of being altered by the user. All Eco-Drive data is automatically read within the Drive Log data file so that calculations can be re-created.






During driving, speedmeter, accelerator and brake condition, and fuel consumption are on screen real time and helps environmentally friendly driving.
Outputs driving log simultaneously and displays Eco-Drive Analysis Viewer.
Eco-Drive Analysis Viewer shows the figure of T: Travel time, D: Travel distance, Q: fuel consumption and E: carbon footprint. Also makes graphs of acceleration, speed, fuel consumption per hour, cumulative fuel consumption, carbon footprint per hour, cumulative carbon footprint.
Users can change each parameter in the evaluation formula of carbon footprint as well.
You can output the result as CSV file and use the result.
Besides Eco-Drive Analysis Viewer, it has a function of showing "Eco-Driving Ranking". It makes ranking based on fuel consumption and carbon footprint and displays the result. (In this case, the items shown are different from Eco-Drive Analysis Viewer)
A simple experiment was conducted to calculate the carbon footprint generated under the two different driving conditions of sudden starting and stopping and one of driving more 'gently'.


ECO Drive Analysis Viewer screen
Example of judgment results
(Customized)
TEST-1(Red)・TEST-5(Green)
Comparison of verification result

Various pre-fixed movements can be set to models.In driving changing scene, various pre-fixed movements can be set to models. For example, when the car reaches a set position, pre-set model activity and various scenarios can be made, such as "Signal mast changes to red", "Car pushes in at the intersection", "traffic congestion occurs", "a man starts walking" By using these scenarios, the plug-in offers a real-vehicle-like driving simulation environment with realistic events.It's available to provide the real driving simulator. Analysis results of EXODUS and Micro Simulation Player Plug-in are controlled via scenario. Result of evacuation simulation can be replayed, camera mode can be changed, Micro Simulation Player can be played and stopped, to name some of the many things the scenario plug-in is capable of doing.



UC-win/Road Cluster allows more than 4 channel display per PC and can synchronize two or more PC and output the image to a lot of monitors. It can be used for a simulator using a 360-degree domed screen and 6K digital signage.






Easy set up and operation
Flexible system with no limitations to the number and configuration of clustered PCs
No function limit : There is no limit to the applicable functions of UC-win/Road.
Performance improved : The use of cluster system improves the performance better than using 1 PC.
A variety of simulations are possible in this multipurpose system which has all elements synchronized

Micro Simulation Player is the function to run various types of simulation animation which is depicted as 3D model movement. It is capable to record and play a traffic flow as a result of UC-win/Road and other traffic simulation.






3D animation function : It's possible to create various type of 3D model's animation based on the information of model's location. It enables to run several data at the same time.
Snap function for vehicle and pedestrians : It's capable to locate objects such as vehicle and pedestrian on the road and the lane, the pedestrian, the ground.
Controlling the existing objects : It's possible to control static objects such as traffic light.
Controlling drawing objects : Time, weather, light etc.
Optimal integration with the functions of UC-win/Road : Traffic, script, camera mode
<User case study>

Virtual reality (VR) of UC-win/Road allows you to easily studythe landscape, road design and traffic and also to check the road situation from the point of view of the driver via a driving simulator. In case of running the advanced traffic simulation, this plug-in would be very helpful.



This Plug-in allows communication with multi users by the use of UC-win/Road. Users can send chatting comment and surrounding information in UC-win/Road such as view position, direction and time through the Internet. These feature enables you to support joint designing and consensus building. In addition, it allows for network-based driving simulation.


User A
Explains the work by looking drawings and documents
You can show your partner the same view that you are looking at.
It becomes easier with the displayed model to explain to the person who is not familiar with the data.

An optional driving simulation feature that links the software to the OEM motion platform hardware of INNOSIMULATION, Inc. (UC-win/Road Customize Option)


Page Top

6 axis motion units/SUBARU Driving Simulator
Based on Subaru automobile's technologies combined with the flight simulator technology from Fuji Heavy Industries Aerospace Department, the simulator body adopted 6 electric axis motion unit (patented) and automobile technologies from Subaru automobile.

The use of actual car steering mechanism gives you a sense of realism while driving. UC-win/Road Experience Simulator allows you to simulate driving environments in accordance with the rapidly improved car safety technology of ITS technologies (crash avoidance, decreased impact).
UC-win/Road Highway Driving Simulator
Potential hazards on highway can be replayed by the driving simulator
FORUM 8 has installed custom Highway Driving Simulator to Convention on Social Contribution of Highway on March 1st, 2010 and have been started to be used for various kinds of event and exhibition including highway and each facilities etc.
This simulator is developed based on UC-win/Road, Interactive 3D Real-time VR and the hazardous events on a highway are based on the scenario and allows you to experience the driving simulation.
3 types of scenario can be set by combining the courses on highway and each facilities with 19 events and also the store assessment results of the testers are able to be output based on the log of driving results.
The hardware of the simulator adopted the actual vehicles' parts with 6 axis motion unit (Subaru automobile).


Experiencing 21 hazardous events on highways and its facilities
Setting items of the experience driving events
6 DOF based experience simulator SUBARU type
Driving Simulator with 6 Degrees Of Freedom 0.7G motion platform for highly sophisticated research purposes.
FORUM8 delivered research-purpose driving simulator referred to as "Human-Vehicle-Traffic Flow Interoperable Driving Simulation System for Interactive Information Exchange" to Kyushu
University Graduate School of Integrated Frontier Sciences on March 22, 2012. The driving simulator will become the driving force for educational research activity on the next generation information/control devices in vehicles.
This driving simulation system was realized by linking the driving simulator, traffic flow simulator, vehicle dynamics simulator, H I L S/ E C U simulator, and eye tracking system and integrating them all into UC-win/Road. The vehicle experiment (accident and traffic jam etc.) which is unable to be conducted on the test course as the experiment environment of the Mobile System (Actual equipment) in the developmental phase can be realized, and which can be helpful for wide variety of driving assist system, next-generation car navigation, ITS contents, prediction of traffuc influstructure effect, accident analysis and analysis of drivers' characteristic etc.
Driving Simulator for driving schools that complies with the certification standards for simulators (awaiting certification)
Based on the certification standards for driving simulators


| | |
| --- | --- |
| | 1. Lesson on hazard perception 2. Lesson on night-time driving 3. Lesson on sudden braking 4. Lesson on driving on the highway 5. Lesson on location-specific conditions 6. Lesson on driving in bad condition |

Setting items for experiment driving events


7. Material for many types of traffic violation
8. Material for night-time visibility

System configuration


- PC for the central control unit - Several PCs for DS
- Printer
*Coneected via network each other.

Diagnosis/Data collection program


| | |
| --- | --- |
| | - Diagnosis program - Data collection program |
6 axis + Yaw/X table and the entire circumference 8 projection / cluster composition
---
Research-based 8DOF road safety simulation system composed of 6DOF, Yaw-Table, Vibration, X-Table, cabin, multichannel projection system, sound system, supply system and the other subsystems.

1. Motion Platform (Composed of X-Table, 6DOF, Y-Table and Vibration)

X-Table : Long distance linear motion system. It transmits the centrifugal force to the driver in the case of long distance acceleration.
6DOF : This reproduces the basic vehicle motion model and faithfully reproduces the vehicle's posture when driven by calculating the vehicle dynamics.
Yaw-Table : This makes the vehicle itself rotate when it turns at an intersection or a sharp curve, reproducing realistic vehicle behavior.
Vibration System : This produces fine vibrations at high frequency to give the driver a different feel when driving on different road surfaces.
Other
2.Multi Projector System
Using edge blending technology, the system provides a 360 degrees simulation environment for the driven vehicle.
3. Virtual Reality Control Unit
Roads can be modeled in 3D environment and traffic simulation can be easily run via UC-win/Road.
8 projectors are set in a dome and driving simulation is projected on 360 degrees screen after the edge blending.
The direction of projectors and the projected angle are set by taking into consideration that it would not be an obstable for the eye line of the drivers.
Ship handling simulator with virtual reality
Ship handling simulator consists of a variety of 3D/VR space expression with UC-win/Road. It allows easy representation of a high accurate VR space in easy method, and the construction of simulator for a variety of applications using scenarios/event functions and motion platform techniques.

This is not only for the training of sailors or students but also for the investigation of the harbor environment landscape with the simulation of its facilities.

Demo Simulator Description


Simplified simulator (UC-win/Road not included)
Compact type for exhibition/demonstration
Start/Stop button
Handle, accelerator, brake installed
Driving simulator supporting UC-win/Road force feedback
SENSO-Wheel (steering controller) allows to link with dynamics of UC-win/Road, which enables to experience the steering operation that is similar to the one of actual vehicle in 3DVR environment.

What is SENSO-Wheel
Steering controller equipping with force feedback function that SENSODRAVE GmbH produces. Driving motor equipped on a steering enables you to obtain the behavior that is closer to reality.

What is CarSim?
CarSim, produced by Virtual Mechanics Corporation, is the vehicle motion simulator which allows you to analyze and evaluate the dynamic behaviors of passenger cars and small commercial vehicles under various kinds of motion conditions and environment conditions.
In anticipation of automatic construction
---
Joint research with "Japan Construction Method and Machinery Research Institute Public Works Research Institute"
(A study of informative construction by mechanization construction, 2007)

UC-win/Road has been mounted as a interface in operation side so that it can check current process and operating instructions in real time in 3D VR. We have also developed an operation function and implemented it and we have been checking by filed experiment.

Up&Coming User Introduction Vol. 91
In "traffic team" instructed by Professor Hideo Yamanaka, (Engineering Department urban design laboratry) of Tokushima University Graduate school Technology and Socio- Science Research Dvelopment, the Bicycle's simulator based on UC-win/Road is adopted for the development of bycycle's information display technology suitable for visual characteristics of users. It is possible to clarify the expected angle by the differences of the size of various signs and the posting interval or the influence which viewing time gives to visibility and to acquire the knowledge used as the standard of the information presentation suitable for the environment of bicycle use. Moreover, it is possible to build various experimental conditions as well as an eye mark recorder and a head posture sensor. By introduction of experimental system using drive simulator, upon clarifying a bicycle user's visual characteristic, it is utilizable for development and examination of an effective mark set in guidance and control of a bicycle for production of a road.


The experiment using bicycle simulator
Example of signs for which the validation check are conducted by bicycle simulator.
Bicycle simulator configuration image
UC-win/Road Wheel Simulator
The VR environment of UC-win/Road is used for the video display part of the wheelchair simulator which is the research development result of Professor Jun Kurata, Kansai University Science and Technology Department. The model of speed and road surface resistance are used as a movement model (dynamics) of a wheelchair. UC-win/Road is utilized for the display portion. Furthermore, whether it can move inside of VR space is verified by reading the data of the actual measurement from a wheelchair simulator to UC-win/Road. The system that by acknolegement of danger in accident when wheelchair is used, further safety can be utilized in consideration of the individual grade and part of handicap.
Wheel chair simulator construction image
Configlation diagram and flow of cooperation part with wheel chair simulator hardware
Wheel chair example by UC-win/Road MD3 character
UC-win/Road Train Simulator
Train simulator aimed at research development, education or training and advertisement etc.

---
It has various applications
For research and development of cars and human engineering, for educating or training crews, for exbition in museums and train expo, train driving game and so on.

From large one to small one
From entire cab including real scale crews' room, wide screen, and motion platform, to simplified version having only part of driver's console and PC screen for displaying.
Handling to both CG image and video image
Depending on the situation, you can use CG which has high degree of freedom or video footage which excel in reality.

Generation of simulated situation which gives you a realistic feeling
Generation of simulated vision with high quality image and high drawing speed, sound produced by multichannel and multispeaker, motion platform giving the real feeling of acceleration and deceleration.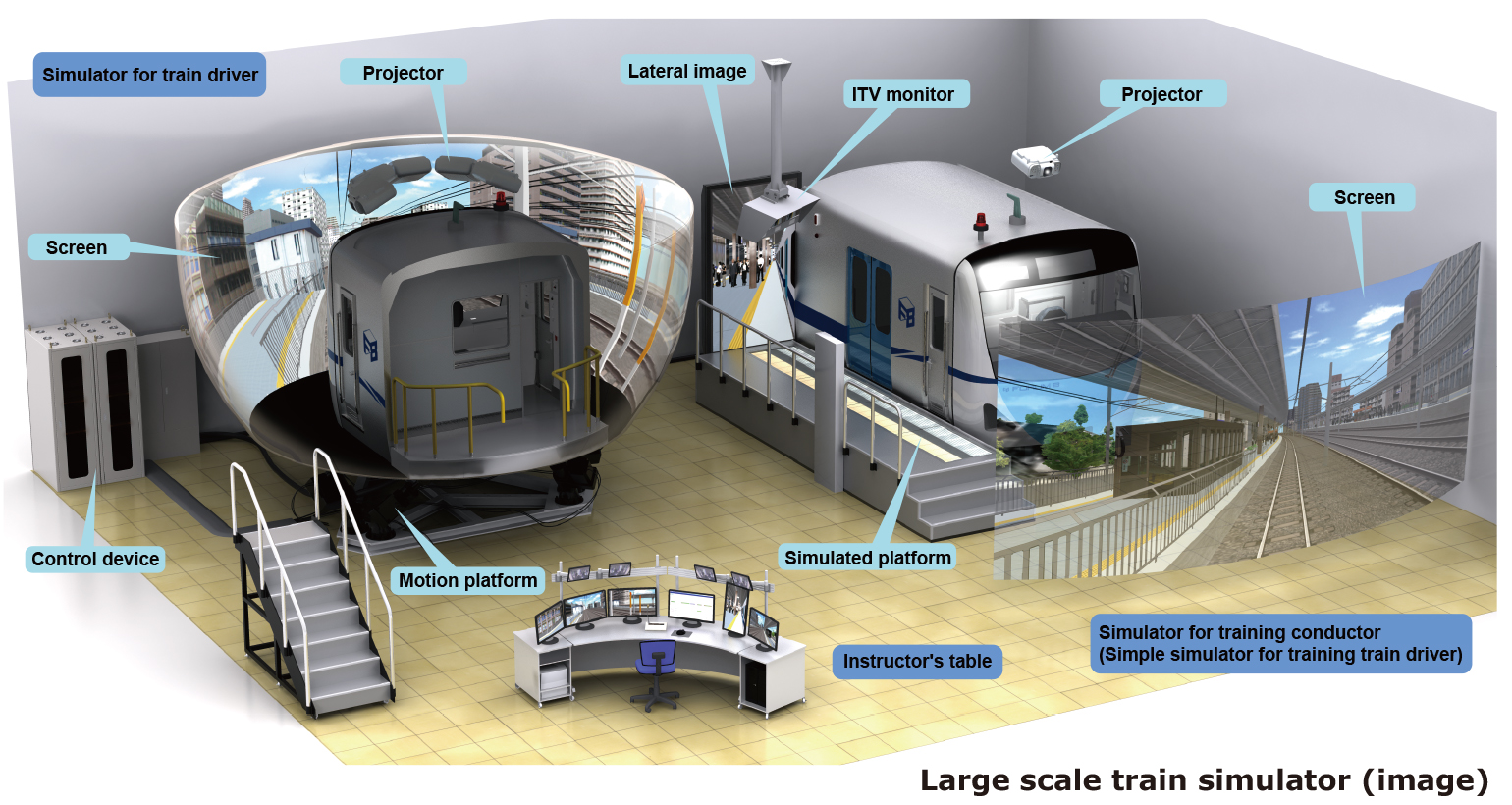 Large scale train simulator (image)
Page Top