---
---


UC-win/Road won the 2002 Software Product of the Year
(Ministry of Economy, Trade and Industry).
It is advanced software that enables the creation of large scale 3D spaces
for all sorts of projects by simple PC operations and with
which you can give a variety of presentations in real-time.
---
3D VR data creation by simple operations is available. Practical data features include our standard database, a Web/Road Database and a LandXML data exchange function. It is equipped with an excellent VR creation / editing function for everything from road alignments, cross sections and terrain processing to traffic setup, model setup / processing, etc. Large-scale 3D spaces can be made by simple procedures in a surprisingly short time.

Visual option tools supporting several VR displays and presentation functions support the real-time presentation of landscape studies, design deliberations, project descriptions, etc. It has been utilized as a tool for building wide consensus for public works and developments by private constructors in general, as well as for road planning and design.

It assists engineering design, development and research whilst also supporting advanced simulation by sunshine simulation, traffic flow simulation, manual drive simulation, etc., in addition to drive simulation.
---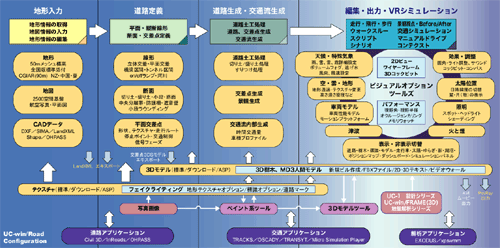 ---
●Standard / CAD Data Utilization
A 50m topographic mesh (of New Zealand and Japan) and 2500 spatial infrastructure data are included. Other useful features include a custom terrain feature, a world geographic coordinate system conversion feature, DXF-XML conversion as well as a 3D and 2D terrain editing feature.


---

- Geographical Survey Institute Authorization (2000, #173): 50m mesh elevation (nationwide) / 2500 spatial infrastructure data (Tokyo / Osaka)
- World geographic coordinate system conversion tool authorization: (#603, Planning and Coordination Division of the Geographical Survey Institute) )


Efficient VR data creation assistance through the use of standard models/textures and an extensive download DB


---

In addition to the standard data including 3D models and textures, extensive downloads are available directly from the UC-win/RoadDB on the Internet. Useful editing and movement tools are available, allowing scaling up and down, movement, rotation, inclination and arrangement of models. Action setting offers generation and motion control of moving models.

●Easy creation of a complicated road structure is available with high definition.
All sorts of lines such as roads, rivers, lakes or flight paths can be set up with parameters or free hand drawing and roads, tunnels, bridges, rivers or walking routes can be automatically created.


---

Tunnel and bridge sections are set by the definition of a horizontal road alignment (clothoid and spline supported) and a vertical alignment.

●Real-Time Display of Large Scale Spaces
It's possible to create data from the size of a dice to a 20 kilometer road structure in the same space. Maximum size is 8000 cubic kilometers.
Smooth dynamic display is supported by performance settings and 3D trees compatible with dynamic LOD.


---


Various displays with the Visual Options Tool. Traffic simulation of road hazards is also available.


---

Control of time, weather and light is available in real time. With the artificial light function, expression of day and night, and shadow is also available.
Traffic flow generation, based on traffic volume, car profiles and traffic lights, and road hazards, from disasters and accidents, can be simulated.


Real-time VR operation by simple operations.
Helps presenters with Before/After, scripting and manual driving.


---

It supports several driving modes (speed of car, lane changing, height of viewpoint, viewpoint switching in 8 directions) and dynamic movement of viewpoint (from other cars, up and down, turn head). Automatic flight and walk-through are available with the flight path setting (editing in the 3D display is supported). More advanced simulation can be performed with manual driving and support for a 3D cockpit and multi-monitors.

Page Top

Related Information

Launched "OpenMicroSim.org", XML scheme open site for UC-win/Road Open Micro Simulation Player




VIDEO by UC-win/Road has been adopted in the VIDEO class, IEEE Virtual Reality 2009. New!
UC-win/Road 3D VR Contest Review VIDEO by Reid Baker of FORUM8 (mov format 1,034,232KB)http://www.forum8.co.jp/ENGLISH/uc-win/Road-cluster-e.htm
* QuickTime of Apple Inc. is required to watch the movie, >>Free QuickTime Download




Assembly Operation Document


UC-win/Road Conference

New Product Introduction

Topics

Video Gallery / Contest
- Video Gallery of Examples of Practical Use of UC-win/Road



Keynote Speech / Presentation Papers

Contest / Seminar Applications Wanted !

UC-win/Road Ver.10.00.00 (Schedueld to be released in June 2014)





This is a function that imports "Road section" and "3D model" from DWG data, and exports UC-win/Road 3D environment.
While the "Road section" is being imported to UC-win/Road, X and Y coordinates from a CAD file comprised of "Line segments", "Polylines", and "Objects (excluding curves)" are loaded, and these are saved as sections.
And while the "3D model" is being imported to UC-win/Road, surfaces are loaded from a CAD file comprised of "3D surfaces (faces)", "Regions", "Solids", "Meshes", "Surfaces", and "Objects (excluding curves)", and saved as models. Furthermore, a CAD file comprised of multiple "Layers" is loaded as an "Instance", and positioned within the 3D environment.
While the UC-win/Road 3D environment is being exported, it is categorized into road, terrain, or layer, and then exported. Exact colors as seen in UC-win/Road can also be assigned to the exported model.

DWG Export window
Export UC-win/Road model
(Left: UC-win/Road, Right:DWG Viewer Software






The function of visualizing trains and railways originated from the function related to automobiles. In this new version, a feature peculiar to railway track has been added, allowing trains traveling along a track in any particular condition to be visualized. The following features were developed for this release.

Implementation of the centerline for railway surveying and centerline of structure for construction surveying.


"Centerline for railway surveying", "Centerline of a structure" and "Center of track", can each be managed separately.


Ability to define mileage chart


Mileage of a railway can be defined as the "Distance along the centerline for railway surveying".


Transition curves and vertical curves


Railway curves such as "Circular curve" can be used as vertical curve, and "Cubic parabola" and "Sine half wave length curve" can be used as transition curve


Horizontal curve can now be drawn with an offset


Based on the curve drawn using IP point, curves can now be drawn with an offset.


Expression of cant of a railway track


Cant of a railway track is calculated automatically based on the train velocity, and reflected on the road section.


Expression of railroad switch


By drawing the centerline of the track, and by inputting the radius of a curve incidental to a turnout, a railroad switch can be created.


Visualization of moving train


Any train model can be made to travel along the created railway track. The following are few of the many ways you do by taking advantage of the new railway simulation feature: Allow multiple trains to run simultaneously, allow trains to travel over multiple tracks, switch camera view from an over head view of the train to the driver's perspective.





Build elevated railroad

and allow trains to run over it.




Crowd movement simulation






Edit pedestrian profile






Rhino Plug-in is a plug-in designed to display 3D models built by Rhinoceros® (which is developed by Robert McNeel & Associates) within the 3D environment of UC-win/Road. Data are transferred back-and-forth between UC-win/Road (server) and Rhinoceros® (client) via a3s, data transmission technology developed by FORUM8, so that 3D model from Rhinoceros® in the stage of editing can be reflected in UC-win/Road. Furthermore, because models can be edited even when they're positioned within the 3D environment, the efficiency of simulation improves dramatically.

Assign drawing style

Correct the position of the buildig


With the combination of VR-Cloud® , Rhinoceros® model can be browsed by VR-Cloud® user. This way, the effectiveness of consensus building or the quality of simulation can be expected to improve. You can expect the technology to go beyond the concept of simultaneous use; the implementation of an ability to transfer between VR-CloudR client and RhinocerosR via a3S is also within our scope of future development.





The head tracking function is a plug-in used for receiving a driver's eye position information while he/she is driving in real-time from sensors such as Kinect, and sending that information to UC-win/Road itself. View from the driver's seat and view in rear-view mirror and side mirrors change according to the driver's eye position.
Coordinate values from the sensor can be received via UDP or API.

View in side mirror changes

System structure





The Oculus Rift is a next-generation Head Mounted Display designed for immersive gaming with built-in sensor that uses custom tracking technology to provide its users an ultra-low latency 360 degrees head tracking and Ultra Wide Field of View 3D stereoscopic image at an affordable price. Oculus Rift Plug-in creates a stereoscopic 3D image with lens barrel distortion and tracks the camera view within UC-win/Road in line with the user's head movement using the sensor data. This way, a sense of immersion into the 3D environment is further improved, and thus a higher quality driving simulation is feasible.





Oculus Rift (above) and 2 screens

presenting stereoscopic image

*Oculus Rift is a product of Oculus VR® (http://www.oculusvr.com/)




The Driver Training Plug-in is a system that assesses driver's driving skill. The driver is assessed for correct operating procedure and driving skill, against criteria that include maintaining certain speed and an ideal route, manueovring skills, collision risk control, and steering and pedal control. You can assign scoring criteria and also store assessment results for each driver, which assists in pinpointing areas for improvement.

Additional criteria such as lane changing skills, and how well you stop or obey traffic rules will be available to be used against assessment in the near future.

Stratification Based Hierarchical Clustering





The multi-user function allows 1 PC to present images on multiple screens. The technology has been enhanced to incorporate the cluster function that allows each PC within a computer cluster to present an image on 1 screen to keep FPS of a simulator high.
A list of computers are organized in a tree structure allowing you to manage them and change their settings intuitively. It is recommended that you make the master PC or PC client in which you can control at will the display only client. You can assign a specific role to any PC by dragging-and-dropping it to the correct location within the hierarchy.







▼Plan&Design ▼Traffic Simulation
▼Driving Simulation/Vehicle Research and Development ▼Interface

---

Plan&Design

Digital map of geospatial information authority of Japan
50m mesh (elevation)(Approved number: 2000, #173), Format of 5m mesh (elevation)

Geographical features of the world

The geographical features are enhanced.
Using the "CGIAR-CSI SRTM 90m Database" for all parts of the world, geographical features of China and Australia are installed in UC-win/Road.
SRTM(90m mesh), ASTER(30m mesh)
BlueMarbleNextGeneration(500m mesh)(Support the topography of the seabed)
Highly accurate terrain can be created whilst specifying its resolution.
The large terrain exceeding 100km in area can now be generated.

Seafloor topography

Road-Terrain matching process



Street map and World File format are now supported.

It is now possible to import the Street Map and World File (coordinate information file) to automatically set the coordinate of each.

Vertical curve of railroad

Simple circular curve (arc) has been applied in conjunction with the vertical curve (parabola) of a road.

River, road cross section


Transparency of cross sections



Improved cuttings and banks and rounding of a small stage



Generating forests



Enhanced intersection function



Intersection function



Tool for editing building

Users can create 3D building models in any shape they wish whether it is square, circle, free form, or a combination. It shows the front-back, right-left, height and size and texture of surface for both day and night.

3D text



Video wall and video player



Improvement of fire and smoke visualization



Parametric 3D modeling
Sing, stairway, escalator, fence by parametric input can be generated. In case of stairway, the width, height, number of bars and texture can be assigned.

List of model panel
general model / vehicle / cab / 3D cockpit / road structure / flags / terrain texture / video wall / buildings / rail trailers / traffics / ignals / characters trees / fire and smoke / 3D strings

FBX 3D model



LOD (Level Of Detail) function


Traffic Simulation

Traffic Simulation function

Packetization of vehicle
Setting probability of each route group
Motion control point in the event transition
Setting the number of stranded vehicles
Scenario within an intersection
Save traffic conditions (Control scenarios/scripts/contexts using traffic snapshot function)
Improvement of scenario function Vehicle speed, lane(s), speed limit can be dynamically assigned
Various commands against leading vehicle (can be applied to traffic flow, vehicle within a scenario played by Micro Simulation Player)

Signal control / Traffic simulation with road Hazards


Traffic Rules setting

Traffic rules for Japan, New Zealand, China and Korea are loaded by default and moreover new rules can be added freely.

Off-Road function



Traffic connector

The virtual type which connects between moving nodes can be defined and the traffic movement can be set from edit window of plan view or main menu.

Vehicle configuration/waypoints

Configuration of driving routes, starting positions, running behind other vehicles (e.g. trains), sound configuration and railroad crossings, by setting action control points, is available.

Display revolving wheels, steering angle



VISSIM



Interaction function



Navigation


Dividing movement mode and simple viewpoint operation clearly, support the viewpoint operation in a movement mode.

| | |
| --- | --- |
| Movement mode | Possible viewpoint operation |
| Free movement | rotation, moving back and forth horizontal and vertical movement, free flight, satellite movement, jump |
| Running, Flight, Driving | rotation, rotation on an axis of object, satellite movement |
| Walking | rotation, jump |
| Chasing | rotation centering around object, satellite movement |

Special weather effect and illumination

The function of rain and snow expression is lifelike. Fog, thunder, wiper(Can be operated with the axis of the upper surface of the windshield) and water splashing can specify the execution area.


road surface
water puddle
rain ripple
road mirage
water splashing
thunder
windshield wiper (rain)
windshield wiper (snow)
wiper
(Bus/Heavy-duty truck)

Walking simulation

Speed alteration while walking is available. Walking operation with mouse was added.

Movement of walking crowd



Artificial light/Shading



Lighting function



Headlight

Can be set individually for each vehicle. The range and shape forming an area of exposure to right and left headlight of has been optimized, hence it can now be visualized in a much more realistic manner.The ability to switch from low beam to high beam and vice versa. Visualization of light rays from fog lamp, reverse light, and the lights of special vehicles such as heavy-duty vehicles.


Tunnel lighting function


Context (Environmental conservation)



3D stereo display



Sky dome function


Driving Simulation / Vehicle Research and Development

Manual driving



Vehicle cockpit setting


Force feedback



Constitution of vehicle movement model


Road attribute



Function linkage with CarSim



Edge blending

Audio system



Driving simulation function


ACC/Automatic driving function 

Trailer running function

Interface

Video card manufactured by ATI and NVIDIA has been supported.



Full screen, simulatin panel

Displaying full screen is possible, without showing the menu and tool bars. Simulation which can customize its panel position and command.

2D horizontal plane view



Unicode

Standard version is available overseas. Chinese limited version corresponds with Chinese language interfaces and traffic rules. It is compatible with user interface (Japanese/English (NZ)/Korean/ French).All languages are available in spite of OS language.

Operation via game controller and keyboard is now supported.

3D Navigation (3D mouse)
| | |
| --- | --- |
| 3D mouse, like "Space Navigator" | |
Page Top



Upgrade History


UC-win/Road improvements over time.
2000.05
2000.07
| | |
| --- | --- |
| 1.01.02 | Switching from Japanese to English / lane changing. |
2000.12
| | |
| --- | --- |
| | Editing function for elevation points. |
2001.06
| | |
| --- | --- |
| | Shadow, rain, snow, wind, Level crossings, Custom terrain handling, XML terrain loading, On / off ramps, Flight paths, Satellite camera view, Locating models along a road, Street map extension, Driving on the right side of the road. |
2002.06
| | |
| --- | --- |
| | World geographic coordinate system, Movable parts for 3D models, Rivers, Road Marking, Power lines, Flags, Terrain transparency, Before / After, Joystick Control. |
2003.06
Data merging, Lakes, Drag movement of models, Measurement between models,
3D Tree Editing, Creating AVI Files.
2003.09
| | |
| --- | --- |
| | 2D view window, Support for multiple monitors. |
2004.06
Traffic generation, Travel route, Lighting effect textures.
Script functions, MD3 characters
2004.09
Forest generation, Wheel base setting,
Pivot setting.
2005.05
2005.12
Drive simulation and cockpit, L-shaped intersection /roundabouts,

POV-Ray, LandXML.


Ver.3.01 New features
2006.05
2006.09
Support for French and Chinese (Formosan), Vehicle grouping, Vehicle appearance and disappearance, Vehicle queues, NZ terrain data loading, Multi view display,

Tracks plug-in.
2006.11
Level of detail LOD, Savable view points, Rear-view mirror, side mirror and car navigation in 3D cockpit, Scale setting for 2D car navigation display, 3D display size setting, Expanded dynamic control points commands,


Expanded script commands.


Ver.3.02(SP1) New features
2007.07
Space Navigator 3D mouse, Support for advanced game controller settings, Improvement of Draft mode, Performance function, shadow expression, Responses to internationalization (UNICODE, traffic rules etc.)
Support for creation of transparent road cross sections

Ver.3.03 New features
2008.08
Advanced building editor, Full-screen view and simulation panel, Driving interaction, scenario creating


Drive simulator plug-in

,

Shape file plug-in


Ver.3.04 New features
2009.02 ~ 2009.10
Expression of fire and smoke


Micro Simulation Player Plug-in, Motion Platform Plug-in, ECO Drive Plug-in, OSCADY PRO Plug-in, xpswmm Plug-in, GIS plug-in



Ver.3.04.09 New Features

Ver.3.04.11 New Features

Ver.3.04.13 New Features
2009.11
2010.08
UC-win/Road for SaaS plug-in, Point-cloud plug-in
FBX file, Navigation function, Vehicle moving model, River creation and improved section setting, New sound system, Text model, script, scenario message, Video wall and video player
Drawing performance, Special weather and lighting, Import function of S-PARAMICS vehicle movement log.
Improved user interface, License and protect

Ver.5.00.00 New features
2011.01
2011.12
EXODUS Plug-in, Replay Plug-in,
Movement of walking crowd, Animation of FBX model, Road DataViewer Plug-in
IFC Plug-in, 12d Model Plug-in,
Improvement of xpswmm Plug-in , Terrain 5m mesh support, Plugin for loading parking model, Improvement of smoke visualization, New weather visualization, Extended driving simulation

  Ver.6.00.00 New features
2012.12-2013.02

2.00.00
-
2.02.00

Android™ client, Improvement of latency, Japanese, English and French, Log output for access and error, Mouse wheel operation, Video encode function
2012. 03
World file, Fluid analysis plug-in, VTK visualization tool kit, Munsell color space output plug-in, Legion plug-in
Ver.6.01.00 New features
2012. 04-2012.05
Cluster option, 3D model output plug-in, Off road function, Presentation function of xpswmm plug-in, Video card manufactured by ATI has been supported., Sidra plug-in, Sky dome function, Supports horizontal curve of railroad, Road friction coefficient μ by linking with CarSim is supported., AutoCAD Civil 3D 2012
Ver.7.00.00 New features
2012.04-2012.05
3.00.00
-
3.01.00

Audio supported, Inline help, JP/CH/KO supported simulation (analysis results for flood and tsunami)
2012.09
| | | |
| --- | --- | --- |
| 4.00.00 | Home menu , Video play in a script and scenario, Vehicle model selection for driving simulation | |
2012.10

Expanded cluster function, Multi media, Improvement of headlight and sound, Tsunami plug-in, Expanded Driving simulation function, Motion control inside an intersection, Log output, FBX 2013, EXODUS, Micro simulation player scenario, Improved Loading parking model plug-in, Terrain creation, Mirror function, Lighting function, Wiper function
Ver.8.00.00 New features
2012.09

4.01.00
-
4.02.00

Photo function , 3D bulletin board fuction with evaluative function for landscape, Conference for several users, Performance improvement by the automatic reset of traffic volume and environment
| | |
| --- | --- |
| 8.01.03 | UC-win/Road Free viewer output plug-in |
2013.05
9.00.00
Expanded traffic simulation function, Parametric model,
Driving trailer, FBX models
Cluster system for multi uses' operation,
Expanded Micro Simulation Player
2013.06

5.00.00

User interface and home menu have been updated.
VR-CloudR Script Plug-in
Page Top

>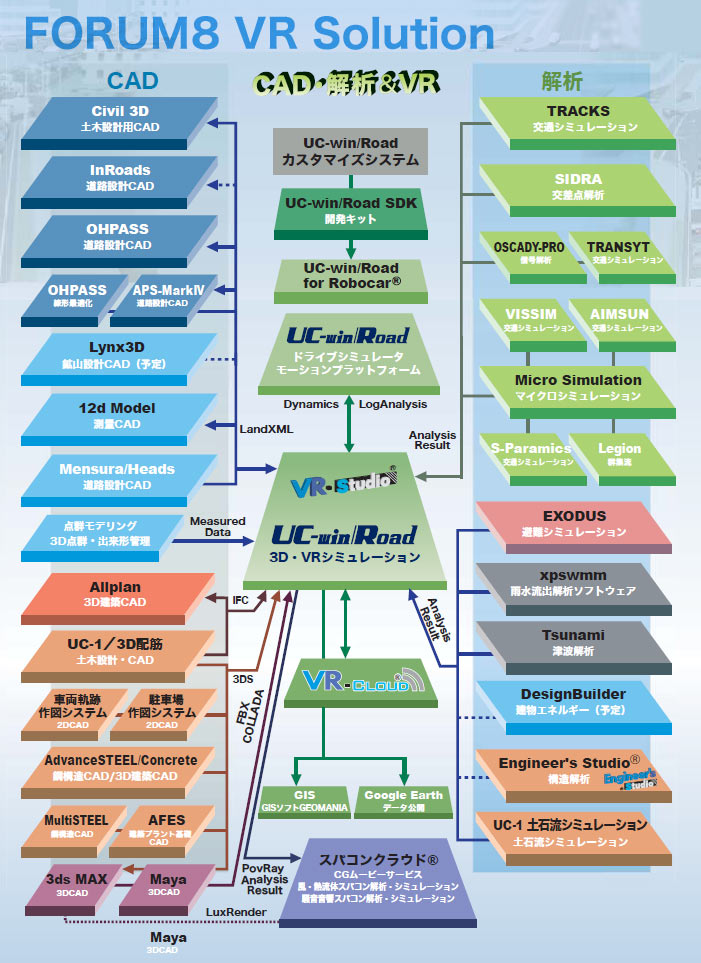 Data linkage with IFC
The terrain data and design and analysis data such as structures and civil structures designed by BIM CAD are linked with UC-win/Road so that they can be checked in VR space.

UC-win/Road→IFC
The example of BuildLiveTokyo 2010
utilizing IFC
Data Link with Road CAD
It is total integration system to allow you to design of civil engineering, such as road/land development, VR simulation, presentation by linking with Design CAD application and UC-win/Road.
UC-win/Road for Civil3D
UC-win/Road can link at object level with Next generation solution "Autodesk Civil3D" which brings a paradigm shift to civil engineering design process.
UC-win/Road Data Exchange Tool for APS-Win
It has necessary function to examine the road alignment (road curve: clothoid curve), railway alignment (sine curve, cubic parabola) and can check designs and calculate coordinates. Moreover results can be output as an alignment diagram.
UC-win/Road for 12d Model
12d allows fast production in a wide variety of projects including mapping, site layout, road, rail and highway design, residential & land developments, and environmental impact studies. Importing data of UC-win/Road to 12d Model allows to calculate soil volume and create the detail drawing.

UC-win/Road

12d Model
UC-win/Road OHPASS Plug-in Option
The optimal highway pass obtained by calculation can immediately be visualized in UC-win/Road thanks to its seamless linkage with OHPASS (Optimal Highway Path Automatic Search System).
Data link with GIS applications
GIS application base on GIS Shape file import function and UC-win/Road

UC-win/Road for GIS
Satellite photo
terrain road(line)
flight route (line spline)
lake (Polygon)
Data link with UC-1 Design Series (Japanese)
3D bar arrangement simulation

3D Bar Arrangement Simulation

Bar arrangement drawings made by UC-1 series can be imported for 3D bar arrangement simulation

Data link with road applications
By linking with "OSCADY PRO", traffic light design and "TRACKS", land usage and traffic modeling system, realizes VR simulation
Data link with analysis software
By linking with "EXODUS", evacuation analysis and flood analysis "xpswmm" realizes VR simulation

UC-win/Road for EXODUS

Data link of UC-win/Road and "EXODUS", evacuation analysis and "SMARTFIRE", fire analysis allows the viewing of the simulation result in 3D VR space.



UC-win/Road for xpswmm

UC-win/Road for xpswmm (Up&Coming 2009 Fall issue)

Allows 3D view of the result of "xpswmm", flood analysis and inundation analysis
Features:
Visualization of the terrain model(importing shape file)
Visualization of water level and pipe model
Analysis modeling of time-history
Large modeling with VR-Studio®
| | | |
| --- | --- | --- |
| | | |
| xpswmm | | UC-win/Road for xpswmm |
Page Top

>

3D data compatible format


The Win series products such as UC-win/RC and FRAME (2D) have been made compatible with 3DS model creation one by one.
Refer to : 3D software list (Japanese)


Product operation environment(required system)


OS
Windows XP / Vista / 7 / 8 (64 bitOS is recommended.)
*XP is supported until April, 2014
CPU
Greater than intel i5/i7 or i7-3770 or the one having the same performance (Greater than CPU clock 3.2GHz or Quad-core)
Required Memory
(including OS)
Greater than 4GB (Greater than 64bitOS+8GB is recommended.)
Required Disk
Capacity
Greater than 8GB(Greater than 10GB is recommended.)
*The required free space for installment of the product including the terrain data and sample data is described. In addition the free space for saving the downloaded model/texture data from the created landscape data and special data, the recorded AVI file is required to use this product.
*Greater than 10GB is recommended if considering downloading from RoadDB and the working range for AVI recording.
Video Card
Greater than NVIDIA® GeForce GTX560 Video memory greater than 1GB and OpenGL3.1 (Greater than GeForce GTx670, Quadro 4000, video memory 2GB, OpenGL4)
Display
(Image Resolution)
More than 1024 x 768
(Greater than 1920 x 1080 is recommended.)
*Please use the default setting for window design and the font size.
Remarks
Implementing DVD-ROM drive and sound board is recommended.
*When using driving simulation, it is recommended to use a commercial steering controller which can be connected to PC via USB.
*When using RoadDB (sample data, download function of sample model), it is required connecting internet.


Benchmark Test Result
"Comparison list of working hours and items"(investigated by FORUM 8) (posted on February 19, 2009)

Page Top